Pioneer Kuro KRL-37V LCD TV
LCD with with plasma pretensions
As always, the real test of an HD panel is its response to standard definition signals and the Pioneer does well. Britain's Got Talent had the right gaudy brashness, Ant and Dec's suits showing up as the most tasteful part of the evening. US ad-exec drama Mad Men gleamed with suitably retro colours and rich skin tones and bright-coloured lips – even on the men.

A reassuringly robust remote
However, there are some motion blur issues. Not consistently and not fatally, but some fast moving action wasn't as sharp and well-defined as it should have been. On a lower-priced set this would have been grudgingly acceptable, but the KRL-37V is really not cheap. Even though you can find it online for around £900 – substantially less than the suggested £1,300 – it's still more than you need to spend for a screen this size. A basic HD-ready screen from a big name can cost less than £500, with Full HD only £100 more.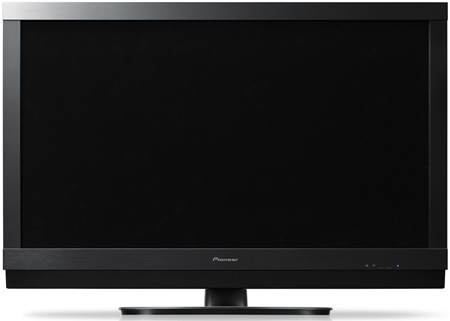 Image conscious: what price this picture?
On the other hand, you just won't find detail, depth and blackness to match this set on other LCDs. True, the latest LED screens have exceptional contrast for the technology, but none has yet obliterated the halo effect entirely. Undoubtedly, the Pioneer front filter works wonders, that other TVs don't.
Verdict
If you want to save money, there are plenty of ways to do so – maybe opt for a less discreet screen frame or make do with HD-ready instead of Full HD. As the price goes down, you'll have to compromise on contrast and colour richness too. Moreover, with a flatpanel, the picture quality can owe an awful lot to the image processing, and the high achievers in this respect are the big name manufacturers. Pioneer is showing ingenuity with its exceptional high-contrast front filter and while the picture is enough to command a price premium, whether it's strong enough to justify this much extra money, is a grey area. ®
More HD TV Reviews...

Sony Bravia
KDL-37S5500

LG 42LF7700
Freesat TV

Philips Ambilight
42PFL9803H/10

Samsung
LE40A786
Sponsored: Minds Mastering Machines - Call for papers now open

Pioneer Kuro KRL-37V LCD TV
Want superb quality contrast on an LCD screen? This is it, but it ain't cheap