Mitsubishi finalises mass-market e-car production plans
i-MiEV spec, speed, range, price announced
Leccy Tech Today is World Environment Day, so what better time for Mitsubishi to announce final production plans for its i-MiEV mass-market e-car.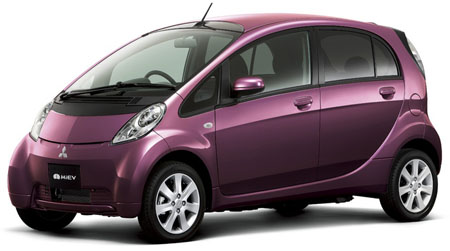 Mitsubishi's i-MiEV: the first true mass-market leccy car?
And the announcement's definitely worth celebrating, because the i-MiEV's arguably the first mass-market leccy car. Yes, we know the Tesla Roadster is already available - but it costs more than a small house and only seats two.
Deliveries to corporate customers will start next month in Japan, but under a lease scheme. The country's private buyers will be able to place advance orders next month too, with delivery scheduled to start in April 2010.
The price? ¥4.6m (£29,300/$47,700/€33,600) including taxes.
Limited deliveries will also take place in other right-hand drive markets - including the UK - later this year. Come 2010, the EV will be also be available as a left-hand drive and appear with Peugeot branding.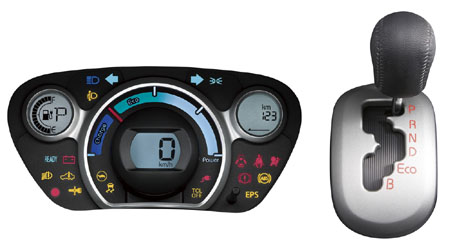 The single-speed transmission has three drive-style settings
Mitsubishi's i-MiEV's powered by a 330V 16kWh lithium-ion battery and a 47kW (63bhp) motor, which is connected to the rear wheels.
It features single-speed transmission with three selector positions: 'D' for maximising performance, 'Eco' for extended range and battery life and 'B' for regenerative braking.
During typical suburban Japanese driving, Mitsubishi reckons a fully charged i-MiEV will get you 160km (100 miles). It also has two power sockets: one for domestic and another for quicker charges.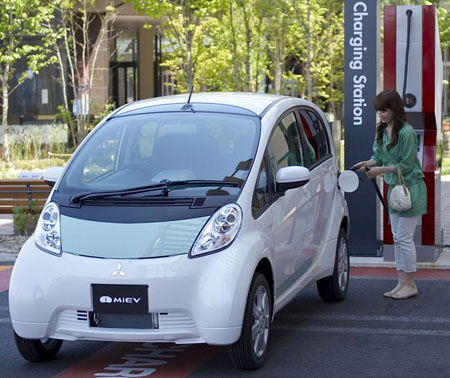 A quick 80 per cent charge's possible in 30 minutes
When connected to a 200V, 15A socket the i-MiEV will re-charge in seven hours. But hook it into a three-phase, 50kW socket and the battery will charge to 80 per cent capacity in just 30 minutes, the company claimed.
Customers will have eight colour schemes to choose from, each of which will complement the LED front headlamps – apparently a first on a car of this size. A 7in display's also included.
So hoorah for Mitsubishi, but please now build the Sport Air. Pretty please... ®
Sponsored: Minds Mastering Machines - Call for papers now open