Baseball icon sues Twitter over parody account
La Russa sees red, demands green
American baseball icon Tony La Russa is suing Twitter over a "demeaning and damaging" parody account created in his name.
The St. Louis Cardinals manager claims a bogus account, "TonyLaRussa," was created on Twitter by an unknown assailant bent on posting "derogatory" remarks about him, causing "significant emotional distress" and "damage to his reputation."
California court documents filed in May, first uncovered by St. Louis Post-Dispatch, further allege the Twitter account makes unauthorized use of La Russa's exclusive trademark, his name. The lawsuit argues Twitter is responsible for infringing his mark because the site uses the web address "twitter.com/tonylarussa." This constitutes a bad faith intent to profit from his namesake and intentionally direct traffic away from La Russa's authorized websites, the lawsuit claims.
La Russa reportedly claims he had contacted Twitter directly to take down the account, but three weeks passed without any action. The account was only shuttered after his lawsuit was filed. The lack of an immediate response was likely due to Twitter's ""impersonation policy" which states the profile on a parody account must make it obvious that the profile is fake.
According to a screenshot submitted as evidence by La Russa himself, this is arguably the case here: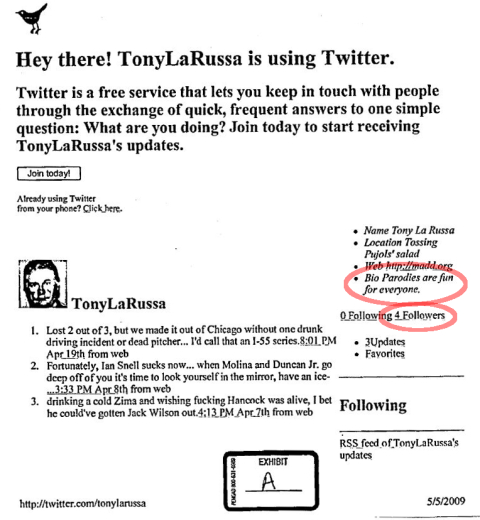 Also note the extreme lack of public interest
The last posting states, "Lost 2 out of 3, but we made it out of Chicago without one drunk driving incident or dead pitcher...I'd call that an 1-55 series."
Cardinals pitcher Darryle Kile died of a heart condition in a Chicago hotel room in 2002. Cardinals relief pitcher Josh Hancock later died in a car crash in April 2007 with a blood alcohol level measured at 0.157, twice the legal limit.
The lawsuit doesn't specify the amount of damages being sought, but indicates the amount demanded exceeds $25,000. According to The Wall Street Journal, both sides are currently negotiating a settlement, which may involve a large "donation" to La Russa's Animal Rescue Foundaton. ®
Sponsored: Minds Mastering Machines - Call for papers now open