Brown to Sugar: 'You're hired'
Amstrad man made a Lord and biz Tsar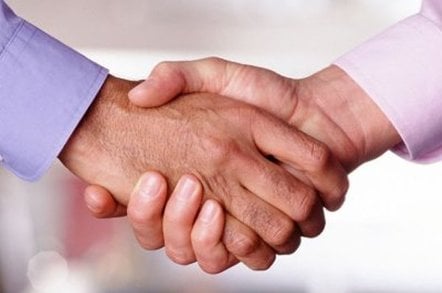 Desperate PM Gordon Brown has apparently promoted Alan Sugar and told him he's hired as "Enterprise Tsar".
Lord Sugar, as he will be, is already an adviser to the government and was spotted at 10 Downing Street yesterday.
Sugar is the force behind Amstrad's amazing emailing telephone, but better known for his telly role on The Apprentice. Sugar left Amstrad last year after selling its set-top box business to its main customer BSkyB for £125m.
Back in the 80s, Sugar was one of the UK's PC pioneers. Amstrad's PCW was the first PC many Brits got their hands on. The soon-to-be Lord Sugar still keeps his hand in with technology as Chairman of Viglen, the Herts-based PC business he bought in the 1990s.
Brown, hit by four ministerial departures in four days, obviously needs some friends to keep him company.
Council election results are already spelling more gloom for Labour, and the European results (not released till Sunday) are unlikely to bring better news.
Last night Work and Pensions secretary James Purnell quit the Cabinet. In an open letter he called for Brown to quit saying his continued premiership made a Tory government more, not less, likely. Defence minister John Hutton has also quit claiming personal reasons.
With the loss of Jacqui Smith and clown-faced Communities minister Hazel Blears, Brown appears an increasingly isolated figure. Many predict he will not survive next week.
Which could make Suralan a contender for shortest ever holder of a government post. ®
Sponsored: Minds Mastering Machines - Call for papers now open