12 of the best... mice
Rodent wars
Microsoft Explorer Wireless Mouse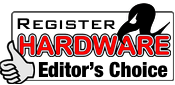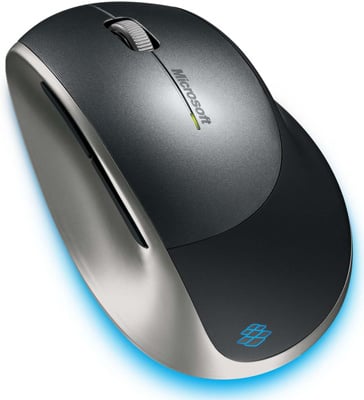 The daddy of conventional mice that comes with something called BlueTrack that enables it function on just about any surface irrespective of texture, colour or albedo. Whatever the science behind BlueTrack's blue laser, it works. We tried in on a shiny white desktop that usually puts the kibosh on any laser mouse and it performed faultlessly. Power comes from a rechargeable AA battery, which can be replaced by a normal cell if circumstances dictate and you get two programmable function buttons. Though of no practical use, the base glows a lovely blue when you turn it on. In fact, we rather wish we could have had the blue glow on all the time, reduced battery life not withstanding. The scroll wheel could do with standing a little more proud of the device in order to make moving left and right across documents easier and the USB dongle doesn't lie flush when clipped into the underside of the mouse for storage – and that's the only way of turning the mouse off – but, ultimately, these are peripheral grumblings. Microsoft also supplies a mains charger, so you can top up the battery without having to turn your computer on.
Reg Rating 95%
Price £43 Click for the best online price
More Info Microsoft
Gyration E3900 Air Mouse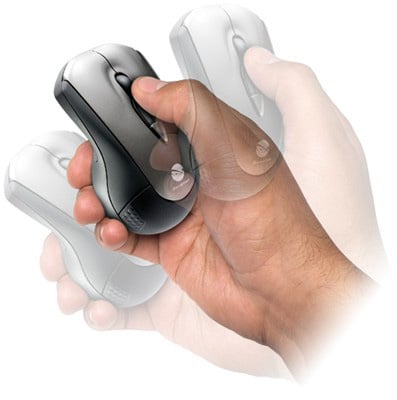 Appearing as a conventional wireless mouse, the Air actually lets you navigate by waving it around in the air like Micky Mouse's wand in the famous bit from Fantasia. A hold down trigger on the bottom of the mouse activates the 'In-Air' function – release the trigger and the Air reverts to being a normal wireless laser mouse. Using the Air does require some practice but once you have developed the knack of keeping your arm still and letting your wrist do the work, it becomes very easy to move the cursor quickly and position it accurately even on an small 8.9" netbook screen. For Window's users, numerous individual profiles interpreting different sets of shake and swipe gestures can be configured as commands to initiate literally dozens of actions including launching a specific file, opening a virtual keyboard or managing Windows Media Centre. Kick back in your armchair and use the Air with a media PC running on your wide screen telly and you will wonder how you ever managed without it.
Reg Rating 85%
Price £75 Click for the best online price
More Info Gyration
Sponsored: Minds Mastering Machines - Call for papers now open