Wiltshire welcomes clutch of Great Bustards
Male parentage of first UK chicks since 1832 in question
Conservation groups have greeted with "euphoria" the hatching of the first Great Bustard chicks in the UK since the last hatchling was spotted in Suffolk way back in 1832.
Two females among a group of Great Bustards reintroduced to Salisbury Plain were photographed over the weekend with their young - a milestone in the long-term project to re-establish the UK's Bustard population.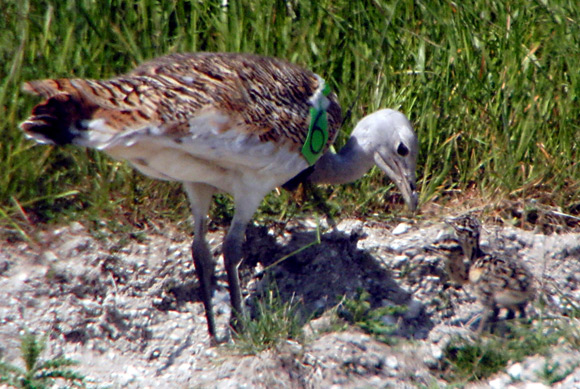 The "Great Bustard Reintroduction Project" began in 2004, led by the Great Bustard Group. Each autumn, the project releases between six and 32 young birds reared from eggs which have been rescued from agricultural activity in southern Russia.
The current surviving population on Salisbury Plain is about 18 individuals. Their first known nest, albeit empty, was in 2007. Another was spotted in 2008, boasting a clutch of eggs, but these later proved infertile.
Now, though, it appears the hard work has paid off. The Great Bustard Group's founder and director, David Waters, enthused: "This is a tremendous step forward for the Great Bustard Reintroduction Project, the wildlife of the UK, Great Bustards and for me. It has been a hard struggle to get this far. I am exhausted and nearly broke, but to see Great Bustards breeding after an absence of 177 years is brilliant."
The Great Bustard (Otis tarda) is the world's heaviest flying bird - with males tipping the scales at up to 20kg. It's also a slow-maturing animal, meaning the UK reintroduction project will likely be a long, and expensive, process. ®
Sponsored: Minds Mastering Machines - Call for papers now open