Promise Smartstor NS4600
Stylish storage with server pretensions?
Firing up a web browser is needed for more in-depth tweaking. The web based interface has a 1990s design, but does display lots of useful information like system temperature – a reasonable 50°C – and SMART hard drive monitoring, while email alerts and Jumbo frames can be also enabled here.
At present, remote file access is achieved by using a DDNS service but, in Q4 of this year, Promise plans to implement a Gatekeeper service so you don't need to know your broadband's IP address or setup a DDNS account. Gatekeeper services make remote access much, much easier but, until now, only Lacie has really committed to a free gatekeeper service on its NAS boxes.
In use, the DLNA support is second to none – it comfortably streamed a 10GB 1080p movie to a Playstation 3 and fast forwarded through content with ease – while Xbox 360 video streaming worked fine for us too. Media can be streamed via iTunes or through a web browser using Promise's Remote Access Media Center, which separates your music, videos and photos into categories for immediate playback. This facility will come into its own when the Gatekeeper comes online; enabling easy access to media across the Internet.
To test file transfer speeds, a 901MB file was copied in Windows Explorer across a D-Link DIR-855 Gigabit router. Jumbo frames were disabled and our 2GHz Core 2 Duo test laptop had a 1GB software Ram disk installed, so the laptop didn't have to access its own drive.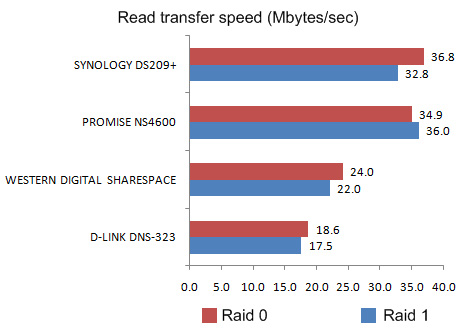 The read transfer speeds are top notch, although Raid 0 should be faster than Raid 1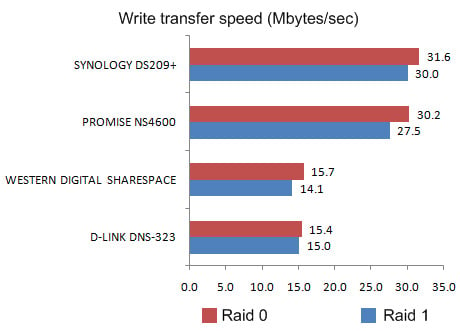 The NS4600's high write speeds can only be achieved with a gigabit router or better
For comparison, we also tested Western Digital's Sharespace, Synology's £400 DS209+ and D-Link's £120 DNS-323. The Sharespace is a direct competitor with the Smartstor NS4600, since it has four drive bays and the Synology and D-Link only have two. All the NAS boxes were tested with two 1TB Western Digital RE2-GP hard drives. Raid 5, 0, 1 and 0+1 are all supported, so you can setup your hard drives for performance, redundancy or a mix of both.
As you'd expect, the NS4600 is quicker when writing in Raid 0 than Raid 1 but, inexplicably, it was slightly faster in Raid 1 than Raid 0 when reading data. Overall, the Promise NS4600 is just a smidgeon behind the Synology DS209+, while it comfortably beats the similarly priced Western Digital Sharespace. With transfers at over 30MB/s, anyone with a 100Mb/s router will need to upgrade to a Gigabit version to take full advantage of the NS4600.
Sponsored: Minds Mastering Machines - Call for papers now open