Volvo readies plug-in hybrid V70 estate
Different wheels driven, depending on power source
Leccy Tech Volvo has formed a partnership with Swedish power company Vattenfall in an effort to bring a plug-in hybrid electric vehicle (PHEV) version of the V70 estate to market in 2012.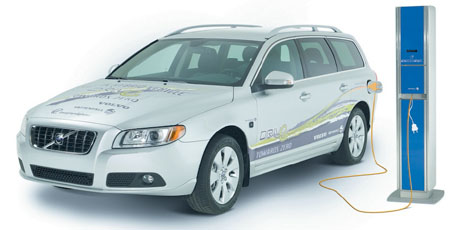 Volvo's plug-in V70 will feature rear- and front-wheel drive
The leccy V70's 11.3kWh lithium-ion battery pack will power an electric motor attached to the rear wheels, while the front wheels will be hooked up to a diesel engine - as per the regular V70.
The electric motor will power the car for 50km (30 miles) of low-speed urban driving, or until around 70 per cent of the charge has been depleted. After this point the diesel engine will be the sole power provider.
So, depending on the power source, the hybrid V70 will either be a rear- or front-wheel drive car – but never a four-wheel drive.
The PHEV V70's battery pack will also be capable of receiving power through a regenerative braking system.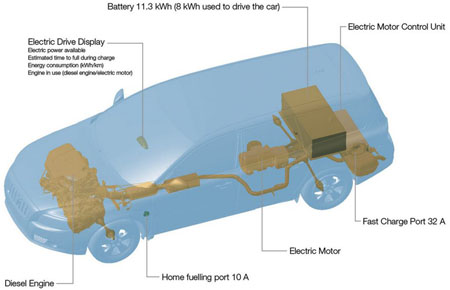 Regenerative braking will be used to juice-up the battery
Three prototype hybrid V70s will be rolled out onto Swedish roads this summer, after which the design and technology specifics will be finalised before production begins.
In Sweden, Vattenfall will offer customers the opportunity to sign an agreement for renewable electricity sourced specifically from wind or hydro power. Lars G Josefsson, Vattenfall's CEO, said the firm's "working hard to eliminate carbon dioxide emissions from all electricity production".
Virtually all Vatenfall's electricity production in Sweden is emission-free, he claimed.
Volvo hasn't made an announcement about hybrid V70 sales outside of its domestic market, but we see no reason why it shouldn't offer the PHEV through other sectors of its European dealer network. ®
Sponsored: Minds Mastering Machines - Call for papers now open