Retailer reveals Gametrak Freedom launch, price
Winging its way onto Xbox 360
An online retailer's revealed the launch date and price of the Xbox 360's upcoming Wii Remote-style controller, Gametrak Freedom.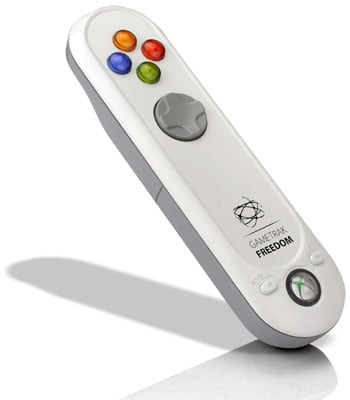 Gametrak Freedom: out in October for $70
The controller's been listed on website ebgames.com and is scheduled to go on sale, in North America at least, on 15 October. It can be pre-ordered now for $70 (£42/€49).
Gametrak Freedom's manufacturer, Performance Designed Products (PDP), has kept mum about a specific launch date. But ebgames' scheduled shipment date tallies with PDP's previously announced autumn availability timeframe.
A little more information about Squeezeballs - a game "specifically designed to showcase the technology" used by Gametrak Freedom – has also been revealed by the online retailer.
Apparently the title features 11 game genres – including "Pumping", "Creature Testing Belt" and "Cooking" – in which you must "blow up, cook, slice, bat, bowl, shoot and skim the Squeeballs…all the while using the Freedom motion handset to pull, stretch, throw, spin, shake, weave, fly and slide your way through the games".
US customers can pre-order their Gametrak Freedom online now. ®
COMMENTS
Knobert
Did you see it? sony made something similar for PS2, and have had one out on PS3 since Dec 07! Your the idiot.
asif its going to bypass the wii aswell!! idiot!!
Anonymous Idiot
Hi AI
Did you not see the motion sensoing tech announced by Microsoft at E3 today?
Far ahead of anything the Wii has
So ya Xbotch is not only competing with the Wii but shall bypass it soon
of course
Everyone knows this is a 3rd party controller right, and it will only ever get niche game support.
Still there will always be some idiots saying how this will make the Xbotch compete with the Wii.