Toshiba demos facial recognition for cars
Alerts drowsy drivers to dangerous driving
Toshiba has demoed an in-car facial recognition system that'll alert dozy drivers to their dodgy driving, or simply help them change the radio without taking their hands off of the wheel.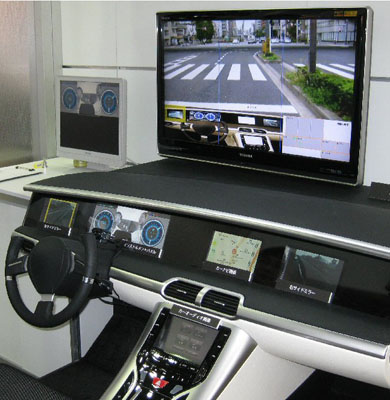 Toshiba's system looks at drivers from eight different points
Image courtesy of Tech On
At a recent automotive exhibition in Japan, Toshiba explained how a camera mounted on the steering wheel column assesses the driver from eight views, checking how frequently they look around the windscreen, at either wing mirror and towards the navigation or audio system.
The camera can catch out dozy drivers by assessing their blink rate, after which the system will sound an alert to the driver that'll hopefully wake them up.
Alert drivers can also control their satnav or stereo while keeping both hands on the wheel, because algorithms can be created that'll link facial expressions and viewing direction to a particular function.
For example, the system could be trained to recognise that looking across at the radio with a particular expression means the driver wants to change radio stations.
"By sensing which way the driver is gazing, the system has the ability to collaborate with advanced driver assistance systems and human-machine interface programs," Toshiba spokesman Hiroko Mochida told Wired.
There are some drawbacks to the technology, though. It can't used when the driver's wearing sunglasses - rendering facial recognition on bright sunny days a no-no. Long-haired drivers can also limit the technology's effectiveness.
Toshiba hasn't announced any plans to commercialise the technology. ®
Sponsored: Minds Mastering Machines - Call for papers now open