Sony X-Series Walkman
Does it kick the iPod into touch?
Sony audio goodies include Clear Stereo and Clear Bass and the Digital Sound Enhancement Engine (DSEE). The latter aims to emulate sonic elements lost in compression but – unless you've got so used to that tight bandwidth MP3 sound that nothing else will do – you'll never want to switch it off. With this additional processing, and a quality set of headphones, the sound was rich and rewarding, and just about the best we've heard from a portable player.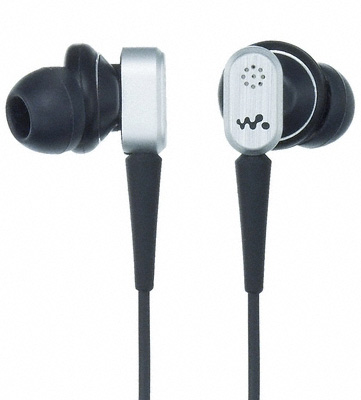 Noise-cancelling headphones as standard
Conveniently accessible from the music player, the five-band graphic equaliser features five presets, plus a further two that you can customise. There's also a selection of ambient treatments provided by Sony's Virtualphones Technology (VPT), which offers effects such as studio, live, club, arena etc. These offer clear differences to suit the type of music you're listening to, although some seem a bit gimmicky. We can't imagine anyone subjecting themselves to the ultra compressed and seemingly flanged sound of the karaoke setting for long.
Supporting a broader range of formats than Apple's alternative, the X-series accommodates Microsoft's WMA, plus MP3, AAC and lossless PCM, although you won't be able to play FLAC, or, indeed, Apple Lossless. For video there's H.264, MPEG4 and WMV9. Sony's Media Manager software certainly lacks the grace and far-reaching capabilities of iTunes but it is easy to use.
Unlike Apple's iTunes, Sony's Media Manager only works on Windows PCs. If you haven't got a Windows XP or Vista machine, the flash drive will still mount as a storage device for drag and drop use on Macs and Linux machines. A facility that runs contrary to Sony's own website FAQ claims that there is no Macintosh support. In use, Media Manager can be set to automatically sync data with your PC, or you can drag and drop files individually. It'll also automatically pull in any tracks you already have on your computer, even from your PC version of iTunes.
Wi-Fi proved to be easy to set up, but when it comes to web browser design, Sony would have done itself a favour by having a quick consultation with Sony Ericsson on its excellent phone-based versions. Alas, the X-series browser is sadly wanting, with an awkward interface for inputting URLs that uses a phone-style keypad rather than a QWERTY keyboard. Also, we were shocked to discover we had to physically enter 'http://' at the beginning of a URL – it was like something out of the nineties.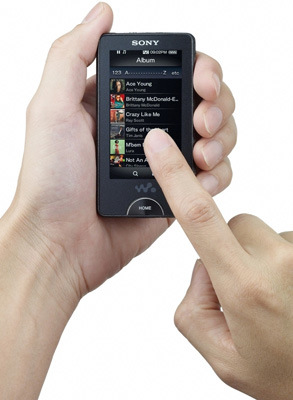 Smaller than the iPod Touch, but a smaller screen too
The bundled Youtube application works well for playback but, when browsing, the pages didn't always render properly, so it was a bit of a disappointment overall. On the plus side, you can swap the resolution to landscape mode and zoom in and out of pages, but it's really not as easy and intuitive as it should be for a modern handheld browser.
Sponsored: Minds Mastering Machines - Call for papers now open