Hindus take divine mace to Sony Playstation
Demand boycott over Hanuman: Boy Warrior
Hindu groups worldwide have called for a boycott of all Sony PlayStation products in response to the company's Hanuman: Boy Warrior, on the grounds that the PS2 game "trivializes the highly revered deity of Hinduism".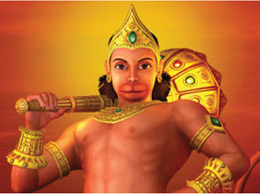 The main objection to the game is that "the player controlled the destiny of Lord Hanuman while in reality the believers put the destinies of themselves in the hands of their deities". Accordingly, "controlling and manipulating Lord Hanuman with a joystick/button/keyboard/mouse" - including wielding the deity's "Mighty Mace" to inflict righteous damage on adversaries - constitutes "denigration".
Led by "acclaimed Hindu statesman" Rajan Zed, religious leaders took their concerns over the game to Sony, who apparently refused to discuss the matter and whose "callous attitude" has now prompted action.
Bhavna Shinde, of the US-based Forum for Hindu Awakening, said the campaign was examining the possibility of "requesting the major wholesalers and retailers of videogames, in India and wherever else this videogame was launched, not to carry it". She added a blanket boycott of Sony products was a possibility, and further urged members of other faiths to join the moratorium on buying PlayStation products.
The press release concludes by indicating that a titanic struggle is in prospect. It notes: "Lord Hanuman is greatly revered and his worship is very popular among Hindus and there are numerous temples dedicated to him. Hinduism is the oldest and third largest religion of the world with about one billion adherents.
"Sony, with Howard Stringer as Chairman and headquartered in Tokyo, is one of the most comprehensive entertainment companies in the world." ®
Bootnote
Rajan Zed is president of the Universal Society of Hinduism. His previous targets include Gwyneth Paltrow, pulled up for failing to adequately nourish the inner aspect on her "mundane" blog, the EU for its "discrimination, racism and xenophobia", and Angels and Demons - a film which he described as "unnecessarily playing with the sentiments of the faithful for mercantile greed".
Sponsored: Minds Mastering Machines - Call for papers now open