Brits suffer 'cinema TV' price hike
Rip-off Britain?
Philips has announced the UK price of its 21:9 cinema-style TV, but buyers would be better off shopping elsewhere in Europe.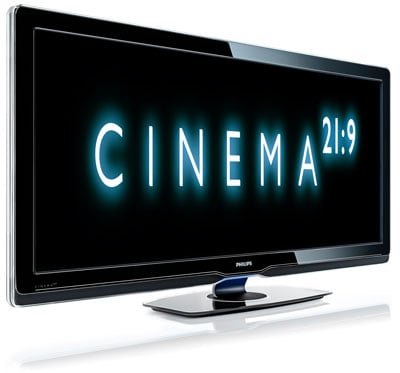 Philips cinema telly: a big screen with a price to match
When the TV was first unveiled back in February, Philips said it would set you back a cool €4000 - just under £3500, based on the latest exchange rate.
However, it's since transpired that only a handful of European countries – including Germany – will now be able to snap up the set for €4000. In the UK, it'll actually cost you £4500 - the equivalent of €5183.
A Philips spokesman was somewhat hazy about the set's various prices in different areas of Europe. But he stressed that the UK price does include a five-year warranty and "smart levelling bracket for hassle-free wall mounting". German customers may not get the bracket bundled.
But, if you've got that amount of spare cash floating around in the first place, we'd wager that another £1000 won't make that much difference.
So here's a reminder of the technical specs: a 56in full HD screen with a 200Hz refresh rate, five HDMI ports and the firm's NetTV integrated Wi-Fi system.
UK buyers can snap the set up the TV from 18 June. ®
COMMENTS
Oh yes, please give it to me
Its great being in the EU where prices are level in this glorious thing called the "Common Market". Marvelous, too, that Philips think it can stuff us Brits up the botty and allow us the privilege of paying an extra grand for it.
Tell you what Philips - you take your 'cinema TV' and pop it where the sun don't shine. I think I'll get on just fine without your product - any of it.
Paris, 'cos allegedly she doesn't like it up the botty either ...
£1000 would pay for
A trip to Hamburg, a tour of the red light district and you could come back with the TV too.
Priceless!
Please, please, please, rip me off, I live am a Brit
ridiculous ... that wall bracket mount thingy better be in solid gold, if it is supposed to be worth 1k!