SanDisk and Samsung end flash row
Flash! A-ah! It'll save every one of us!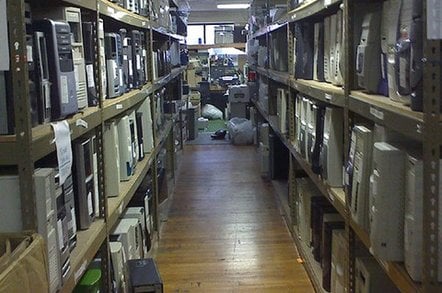 Flash chip supplier Samsung and flash memory product supplier SanDisk have kissed and made up. They are renewing an existing cross-licensing agreement for another seven years from August 14th this year.
An existing agreement terminates on that date. The renewed agreement includes rights to each supplier's patents covering multi-level cell (MLC) flash memory and flash storage systems, but not patent claims specific to 3-D memory technology.
SanDisk says the effective fixed payment and royalty rate during the renewed agreement will be approximately half of the effective rate under the current licence. Under a separate agreement, SanDisk is going to get a guaranteed portion of Samsung's flash chip output.
It looks as if Samsung reduced its cash payments by agreeing to ship chips to SanDisk.
A crown jewel in SanDisk's intellectual property treasure chest is understood to relate to four bits per cell (4X) MLC flash, which will help enable cheaper flash memory. Last year Samsung and SanDisk had court battles over SanDisk's right to charge more than Samsung expected for licensing this technology. Samsung tried and failed to take SanDisk over during that period, and the potentially high licensing fees and royalties it would have to pay SanDisk was thought to be one reason for the takeover bid.
Now both companies are in happy agreement. SanDisk chairman and CEO Dr. Eli Harari said: "We are very pleased with the agreements announced today. We believe that they represent good value for our stockholders and enable both parties to focus on the growth markets at hand. We are excited about our opportunities in mobile, computing and consumer flash storage markets. Furthermore, continued access to Samsung's flash capacity under competitive terms gives us greater flexibility in managing our future capital expenditures for captive capacity. We look forward to a constructive relationship with Samsung in the years ahead."
Dr. Oh-Hyun Kwon, Semiconductor Business president at Samsung Electronics, referred to the past disagreements in his statement: "The renewal agreements enable Samsung and SanDisk to each focus their energies on restoring flash market growth. It is clear that these renewal agreements are aimed at strengthening the on-going business relationship between Samsung and SanDisk, and we are pleased that the two companies have worked hard to achieve a significantly improved balance on the patent licence."
That last sentence refers to the reduced fixed and royalty payments in the renewed agreement mentioned above, and underscores the value of the Samsung chip supply to SanDisk, a point repeated in the Harari statement. Samsung gave some to win some and SanDisk was happy to play ball. ®
Sponsored: Minds Mastering Machines - Call for papers now open