Doro PhoneEasy 345gsm
Finger-friendly phone for senior-citizen service
The panic button is prominently featured on the back, as it is with the Doro PhoneEasy 338gsm. By holding it down or pressing twice in quick succession, the phone goes into emergency mode, texting up to five numbers in the phone's emergency folder, then calling each until it gets an answer. Doro points out that it's best not to use numbers that might go to answerphone, since the PhoneEasy 345gsm can't distinguish between this and a genuine answer.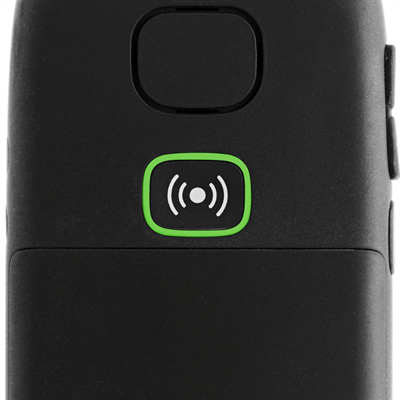 The panic button: for life's awkward moments
The PhoneEasy 345gsm's screen is a big improvement over the ultra-basic one on the PhoneEasy 338gsm. It's colour for a start, and bigger too at 27x37mm, though it's still very basic looking with a resolution of just 96x128 pixels. Still, it's much easier to read than the 338's cramped monochrome, which is a big plus for a handset whose main selling point is ease of use. Unlike its cousin, you can send as well as receive text messages with the PhoneEasy 345gsm – it even has the option of T9-style spelling support.
There are two games on board – a version of Nokia stalwart Snake and a Whack-A-Mole clone called Smash. Basic fare, in other words, but you're stuck with them since there's no Java, and no option to download any more. Bluetooth is here too, which you can use it to transfer contact details though. It's only Bluetooth 1.2 spec and there's no A2DP profile – so you can't use it with stereo wireless headphones, although it can stream in mono to a headset.
There's an FM radio too, with a frequency range of 87.5-108MHz and nine presets. Reception was okay overall, and you can scan for available channels, though we could only listen through the headphones as you need them to act as the aerial, and there's no option to switch to the phone's loudspeaker.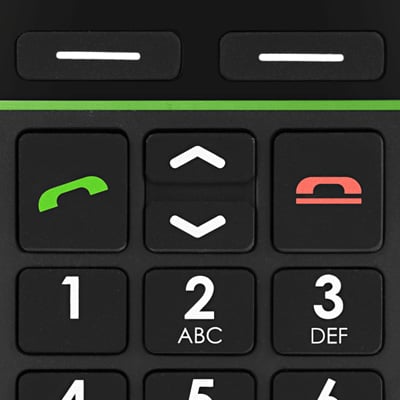 Arguably the easiest phone keypad you'll ever use
The headphones are stereo by the way, and are hearing aid-compatible, as there is often interference between hearing aids and standard headsets. Other features include alarms and a calculator, a speed dial option and that's about it.
Sponsored: Minds Mastering Machines - Call for papers now open