Greenpeace tackles tech CEOs
Apple's Steve Jobs oddly absent
Greenpeace has turned on the CEOs of major tech firms, naming and shaming those who it claims don't live up to their eco obligations.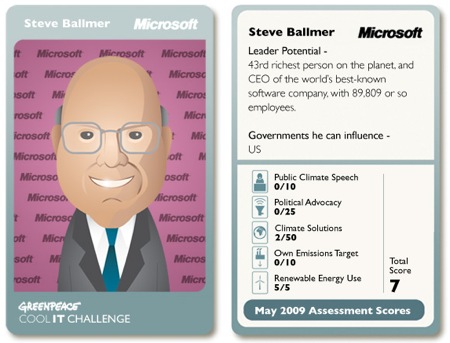 Microsoft's chief scored seven out of 100
Greenpeace's Cool IT Challenge named Atsutoshi Nishida of Toshiba as the worst performer – scoring just two points out of a possible 100. Samuel Palmisano of IBM and Sun's Jonathan Schwartz took joint first place with 29 points apiece.
The NGO's report is a mixture of each CEO's personal eco achievements within their organisation and of their business as a whole. In some assessment categories, such as Public Climate Speech, Greenpeace has analysed how often a CEO's speeches have centred on green issues.
In other categories, such as Renewable Energy Use, the body looked at the firm's overall use of renewable energy sources. It's in these sections where the report's similar to Greenpeace's existing quarterly Guide to Greener Electronics.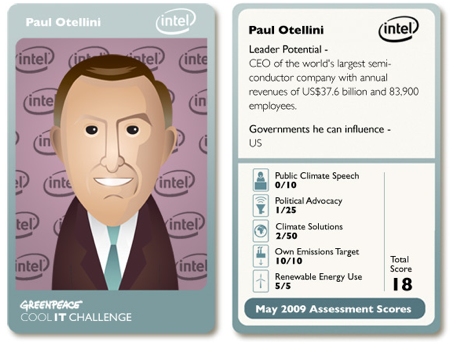 Good on emissions: Intel's Otellini scored 18
Microsoft's Steve Ballmer only scored of seven points. Greenpeace claimed that the software giant needs to set a public goal for renewable energy use. Ballmer needs to talk more about climate change, it said.
Dell's Michael Dell scored 21 points. Greenpeace lambasted him for failing to relate his speeches to climate change, but praised the his company's emissions reduction target and its use of renewable energy.
Mid-way through the CEO rankings sits Nokia's Olli Kallasvuo with 16 points.
Greenpeace said the Finnish phone firm had the highest renewable energy use and targets of any of the firms it surveyed.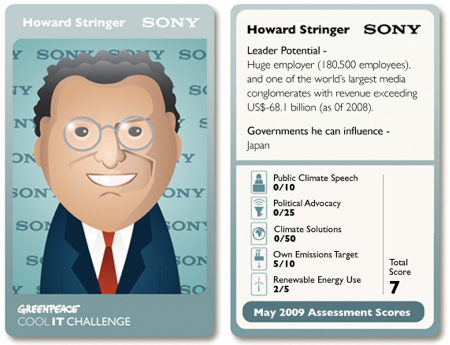 Sony's Sir Stringer only scored 7
Intel's Paul Otellini scored 18 points because the firm's apparently "the leading purchasers of renewable energy credits" in North America. The chip giant should, however, work more on policies that result in direct absolute reductions in greenhouse gases.
Otellini's new pal, Steve Jobs, is mysteriously absent from the Greenpeace's list, as is Apple. Not willing to tell us what you think while the man's off sick, folks?
Check out Greenpeace's full Cool IT Challenge report online. ®
Sponsored: Minds Mastering Machines - Call for papers now open