Clickfree Traveler SSD
Credit card-sized, no-brainer backup
The settings can be easily adjusted, although the only, slightly unnerving, way into the options menus is to interrupt the back-up countdown, after the Traveler's been plugged in. Files can then be selected by category to exclude from the backup. These categories, which include headings like Documents, Videos, Music and Financial, can span all the drives on the target machine, but you can also select by drive, or by individual folders within those drives' trees.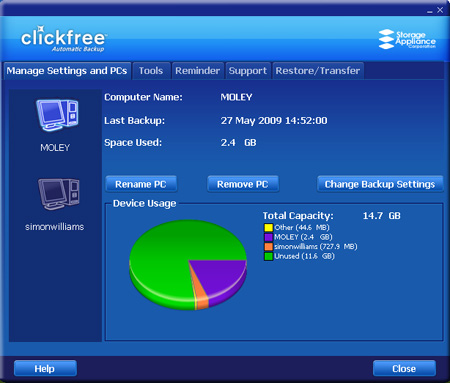 Spatial awareness: handy overview of backup space usage
The Clickfree software is well-written and easy to navigate. It includes helpful displays, showing the exact number of files in each category copied from each machine and a pie-chart of how the contents of the drive breaks down by machine backup.
The Clickfree software also auto-updates to the drive whenever you plug it in, as long as it can get to the Internet, so you should be running the latest version all the time. The same drive can be plugged into PCs and Macs, so you could use the device to transfer files in bulk from one platform to the other. You can restore individual files, folders, drives or complete backups and view files in situ within a backup.
The Clickfree drives don't do encryption or compression, which fits with the ethos of keeping things simple; the files you back up are there to get at without special software. However, if you're being encouraged to take your back-up device around with your laptop, then more advanced customers will bemoan the lack of encryption, with Clickfree's password protection being the only security option, which should satisfy most users.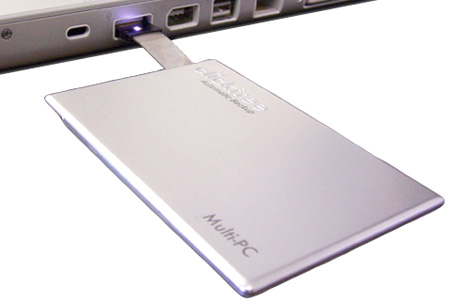 Easy backup for Macs and PCs on the move
To test the backup speed, we plugged the Clickfree Traveler into our test desktop, where it spotted 4,318 files (2.45GB) just crying out for duplication. It took 25m51s to do this, which is pretty slow. To compare, we ran exactly the same backup on the 120GB Clickfree Portable hard disk drive we reviewed last year. This test took 9m20s, not much over a third of the time. Both tests were run as new back-ups, using the same version of the Clickfree software, updated fresh before we started.
Sponsored: Minds Mastering Machines - Call for papers now open