NASA marks 50th anniversary of monkey spaceflight
"My god, it's full of bananas"
Fifty years ago today, two monkeys became the first mammals to successfully return to Earth after spaceflight, paving the way for manned missions.
On May 28, 1959, Able, an American born rhesus monkey and Miss Baker, a Peruvian squirrel monkey were strapped into the nose cone of a liquid-fueled Jupiter missile by NASA scientists and launched from Cape Canaveral, Florida, to an altitude of about 360 miles.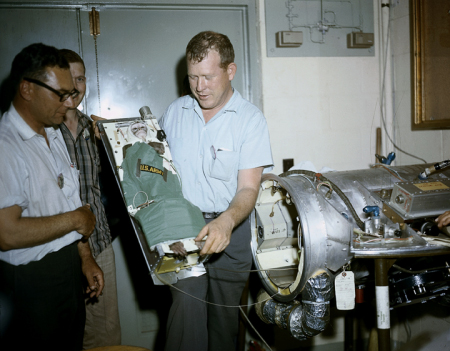 Able being readied for a preflight test, courtesy of NASA
Both simians were recovered unharmed, although Able died four days later from a reaction to anesthesia administered during surgery removing an electrode under her skin that had become infected. Her body was stuffed and strapped once again into the capsule for exhibit at the Smithsonian Institute in Washington where it remains today.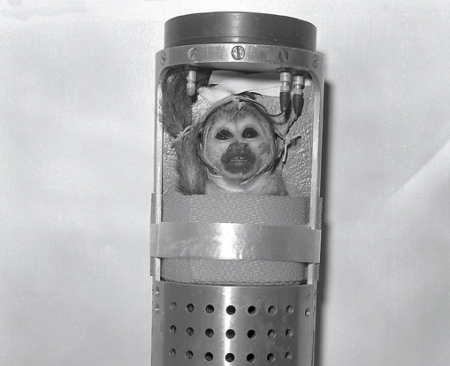 Baker in a "bio-pack couch" for the Jupiter mission, courtesy of NASA
Miss Baker lived long after, retiring to the Redstone Arsenal in Huntsville, Alabama, and later the US Space and Rocket Center. The space-faring simian appeared on the cover of Life magazine and reportedly received about 100 letters a day from school children. She died in 1984 at the age of 27 from kidney failure. More than 300 people attended the funeral service, were Miss Baker was buried under a granite pillar marking her contribution to space flight.
Both monkeys withstood 38 times the normal pull of gravity and experienced weightlessness for about nine minutes on their historic mission. The capsule traveled an estimated 1,700 miles way from the launch site on its 16 minute journey, and was recovered off the Caribbean island of Antigua by a US Navy vessel.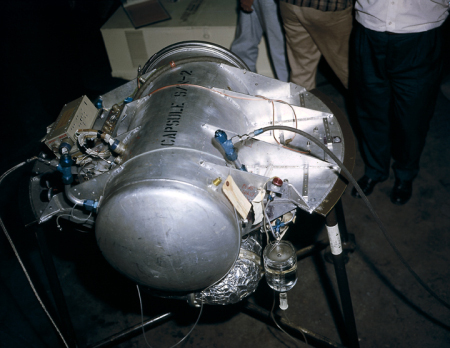 The capsule ready to be installed, courtesy NASA
Able and Baker were certainly the first adorable animals to survive spaceflight, but the claim to being the first living creature to make a round trip journey belong to fruit flies, sent packing along with a sample of corn seeds in 1947 to test the effects of radiation at high altitude.
Subsequent experiments by Soviet and the US that rocketed dogs, monkeys and mice into space were unsuccessful in recovering the animals alive due to a mix of mechanical failures, gravitation stress, or because a re-entry strategy simply wasn't considered.
NASA claims without animal testing in the early days of human space flight, both the Soviet and American space programs could have suffered tremendous losses of human life. So raise a banana daiquiri today in toast of the monkeys that made it home. ®
Sponsored: Minds Mastering Machines - Call for papers now open