Summer debut for Judge Dredd computer smart-rifle
Exploding wireless mini-shell ammo hits round corners
Judge Dredd style array of ammo types seems to call for voice selection
The XM-25 is said by Audette and his team to weigh no more than a normal M-16 rifle with attached underbarrel grenade launcher. It's not much longer than the standard M-4 carbine.
On the down side, the current iteration of the XM-25 holds only five 25mm smartshells. Some would say that a smartgunner would be at a disadvantage in a close-up urban dustup, needing to reload too often.
Audette, however, says that combat ranges in Afghanistan - the new focus for the British and US forces - tend to be longer than those of Iraq's largely urban battlefields. He points out the XM-25's long effective range is 750m, more than twice that of existing 40mm thud-gun grenade launchers and a good bit more than the M-16 and M-4.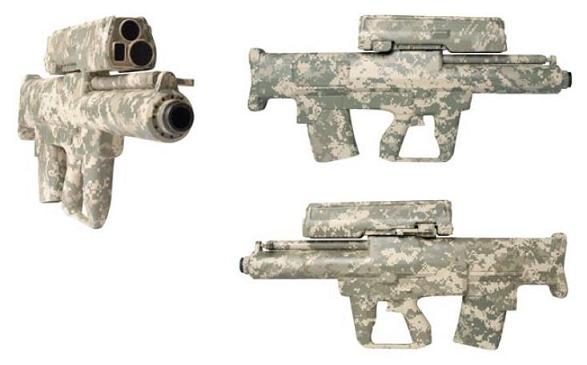 Sadly the chameleon video-camouflage coating still suffers from pixellation at times.
Furthermore, the latest Army fact sheet (pdf) on the XM-25 hints at an enhanced range of ammunition in future. Baton rounds, door breachers, flash-bang stun warheads and armour-piercing (presumably mini-shaped-charge) shells are all planned. There's also an "anti personnel" round: in the US military that normally means an artillery shell which throws a cloud of smaller projectiles - either metal balls ("canister") or finned darts ("flechette" or "beehive"). The XM-25 version could function like a shotgun, simply throwing the shot or flechettes out of the end of the barrel for maximum closeup firepower, or it could use the gun's airburst capability and deliver a spread of projectiles at long range.
This Judge Dredd-like array of ammo options, combined with the XM-25's other abilities, would seem to suggest that the smartgunner might not feel too disadvantaged among his team mates with their various specialist weapons - squad-auto machine guns, marksman or sniper rifles, combat shotguns and so on. Though it might be nice if there was some handy way to switch ammo types on the fly, rather than changing magazines every time. A selector dial on the weapon, as favoured by the Judge in 2000AD*, might be more practical than the voice selection seen in the movie version.
According to the US Army, these questions will be settled in "field testing this summer", though it isn't revealed exactly where. Previous hints have suggested Iraq as the inaugural theatre, but Audette now seems to be favouring Afghanistan. ®
Bootnote
* Though Dredd still invariably felt it necessary to shout out what kind of ammunition he was using, even if it was quite a mouthful ("steel-tipped high penetration!")
Sponsored: Minds Mastering Machines - Call for papers now open