Volkswagen eyeing ties with Chinese e-car firm?
Pair sign memorandum of understanding
Leccy Tech Volkswagen (VW) has tied itself in with Chinese car firm Build Your Dreams (BYD), thanks to a deal that'll see the pair jointly explore e-car possibilities.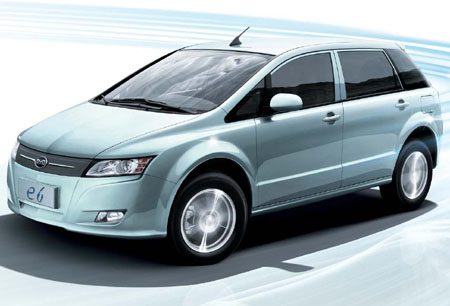 VW's partnership with BYD could see it sell the Chinese firm's e6 'leccy car (above) in the UK
The pair signed a memorandum of understanding that'll help them "explore the options for partnership in the area of hybrids and electric vehicles powered by lithium batteries".
Exactly what this could lead to is still unknown, but comes roughly one week after Stefan Jacoby, CEO of VW of America, said that mass electric vehicle adoption is at least 10 years away.
Assuming Jacoby's comment is an accurate reflection of corporate thinking at VW, then the firm's differences with BYD could hardly be more marked.
BYD, for example, already sells a plug-in hybrid – the F3DM – in its native China and plans to put its pure EV e6 MPV into mass production during 2010.
So what's the point of the partnership? BYD's battery technology is hardly state of the art - making it difficult to see VW being too interested in that. VW's also already the largest foreign carmaker in China, with a market share of around 18 per cent.
On the other hand, BYD could certainly use VW's production engineering and quality control expertise. Especially so if it ever plans to pitch its e-car offerings at demanding European and North American buyers.
BYD doesn't have a dealership network over here, so VW could see partnership as a way for it to dip a toe in the pure e-car market.
Admittedly this is reading deeply between the lines, but VW could bolt BYD e-car dealerships onto its existing VW/Audi/Skoda/Seat network and provide after-sales support.
If this is the case then BYD is the obvious Chinese e-car partner. Not only is its model development cycle rather more advanced – and realistic – than many, but the firm's attracted the money of American investor Warren Buffet – who bought a 10 per cent stake for $230m (£145m/€164m). ®
Sponsored: Minds Mastering Machines - Call for papers now open