Philips Streamium NP2900
Stylish and sonically satisfying streaming sound system
One of the main issues some folk had with the Boom was that it was tethered to the Squeezecentre media server. That's a banana skin Philips have dodged by making the NP2900 fully compliant with both the UPnP and DNLA standards.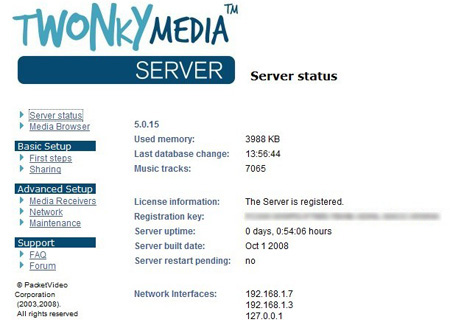 Twonky Media server is supplied for Mac and PC with a Linux download also available
The UPnP compliance enables the NP2900 to work with the ubiquitous Windows Media Server but if you don't like the Windows server – or are a Mac or Linux user – Philips bundle a CD with TwonkyMedia's media server. The CD only contains the PC and Mac versions but since Philips supply an activation code – TwonkyMedia server is usually a €19.95/$29.95 (£17.85) purchase – Linux users can download the trial version direct from Twonky and activate it using the supplied key.
This was the first time we had used the Twonky server and were generally impressed by the ease and simplicity of installation and the speed with which it updated itself from our iTunes library during use. It also earned plaudits by finding and importing our iTunes playlists and for its reaction speed – the NP2900 worked a good deal faster when accessing files via Twonky than via Windows Media Centre. That said, even when being used with Twonky, the NP2900 still didn't access files quite as quickly as the Boom, but the difference was marginal.
If Squeezecentre had one good point, it was its ability to generally import albums with the correct running order. For reasons we confess not to fully understand, all the albums picked up by the NP2900 via Windows Media Server had their tracks listed in alphabetical order unless navigated via the 'folder' view in which case they all appeared in the correct order. No matter how we viewed albums in Twonky roughly half had their tracks arranged seemingly at random.
We think Philips missed a trick by not enabling the NP2900 to access iTunes – or Squeezecentre - as a server in the way Roku's Soundbridge can. Doing so would not only have meant gapless playback for opera fans but would also have ensured that iTunes users got their albums in the running order that God intended. Still, at least the NP2900 will shuffle your tracks if you want to deliberately mix things up a bit.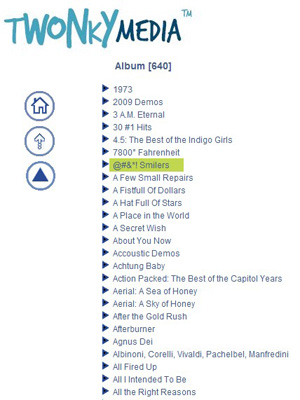 The Twonky Media server album navigation page
Server idiosyncrasies notwithstanding, getting the NP2900 up and running is pretty straightforward. Once powered up for the first time, it will scan for wireless networks and ask for any necessary security codes. It then looks for any available UPnP servers and, having found them, is ready to rock.
Sponsored: Minds Mastering Machines - Call for papers now open