Toshiba Qosmio X300
Eye candy? Snazzy styling and GPU grunt for gamers
Other features include 4GB of 1066MHz DDR3 memory, and two 320GB/7200rpm hard disks, one of which is partitioned into two equal parts, with the operating system and recovery files stored on one while the other is set aside for your own data. There aren't any recovery disks supplied with the X300, which is rather annoying considering this machine costs well over £2000.

Not the slimmest by any means
We were also mildly surprised to see that Windows wasn't even pre-installed on the hard disk. When you turn the X300 on for the first time its installation utility asks you whether you want to install the 32-bit or 64-bit version of Vista Home Premium. The manual also explains that you can burn your own recovery disks onto DVD if you want to.
All this is fine for people with a bit of technical know-how, but ordinary home users who were simply seduced by the shiny go-faster stripes might be a bit baffled by all this, so Toshiba could make a bit more effort to simplify the initial set-up process.
About 45 minutes and umpteen restarts later, we found ourselves presented with a Vista desktop covered in annoying shortcut icons for assorted bits of bundled trialware, such as Microsoft Office and McAfee Internet Security – and even links to eBay and Amazon thank you very much. After dumping that lot straight into the trash, we installed a few bits of software of our own to test the X300's performance.
At this point we discovered another error on Toshiba's web pages. The specification for the X300-13W correctly states that it has a pair of GeForce 9800M GTS graphics cards, each with 512Mb of dedicated video memory. Delving into Device Manager, we also found a less powerful integrated GeForce 9400M G graphics processor on the motherboard, which isn't mentioned on the web site or the spec sheets that we'd seen from Toshiba.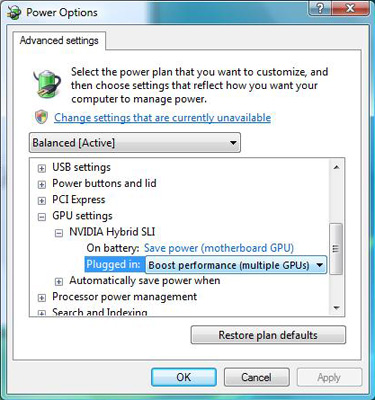 Dual GPUs deliver a hefty performance boost
Another week of phone calls to Toshiba eventually confirmed the fact that the 9400M G is indeed a standard feature – which is good news, as it means that you can use the 9800M GTS SLI rig for playing games and then switch to the 9400M G when you want to save battery power for web surfing and other tasks that don't require super-fast 3D graphics. Switching between the two graphics options is easy – you can simply switch between them in the Power Options control panel, and don't even have to log-out or restart the laptop.
Sponsored: Minds Mastering Machines - Call for papers now open