32GB iPhone confirmed by T-Mobile?
Mysterious 'Coming Soon' website post
3 Big data security analytics techniques
A 32GB iPhone category was recently added to a T-Mobile website – further fuelling speculation that an updated model is inbound.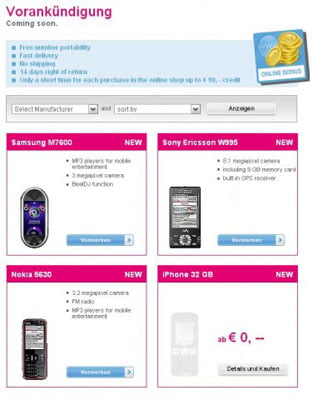 A 32GB iPhone recently appeared on T-Mobile Austria
Image courtesy of SlashGear
According to various online sources, T-Mobile Austria recently created a category for an "iPhone 32 GB" on its "Coming Soon" page.
No further details were included and, sadly, a picture of the Apple smartphone wasn't there either.
The entry has since been removed from the network operator's website, but the captured screen grab will only add to recent speculation that Apple's set to unveil a 32GB model at its Worldwide Developer's Conference in San Francisco next month. ®