32GB iPhone confirmed by T-Mobile?
Mysterious 'Coming Soon' website post
A 32GB iPhone category was recently added to a T-Mobile website – further fuelling speculation that an updated model is inbound.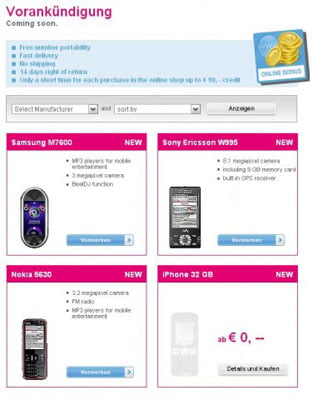 A 32GB iPhone recently appeared on T-Mobile Austria
Image courtesy of SlashGear
According to various online sources, T-Mobile Austria recently created a category for an "iPhone 32 GB" on its "Coming Soon" page.
No further details were included and, sadly, a picture of the Apple smartphone wasn't there either.
The entry has since been removed from the network operator's website, but the captured screen grab will only add to recent speculation that Apple's set to unveil a 32GB model at its Worldwide Developer's Conference in San Francisco next month. ®
COMMENTS
iPhone on Orange
Don't think T Mobile will touch it in the UK, I spoke to someone at Orange uk and the rumor is that they will have the next gen phones late October in time for Christmas. and there are rumors of network sharing with Vodafone to boost coverage.
Looks like i'll be saving my upgrade until then.
Paris! because the rumors are usually true!
Just not fair
To tease me like that. I'm stuck with T-Mobile for a while and refuse to shell out the kind of money iPhones command on the open market. Even used spending three hundred bucks or more on a basic (perhaps not even 3G) unlocked iPhone is just more than I'm willing to do. The obvious reason I highly doubt this web page is true or accurate is the G1 and it's successors. Unless of course T-Mobile is willing to completely piss off Google by making it compete side by side with Apple.