The company's claims on signal range held up to our tests, which revealed nothing in the way of interference. However, should you experience signal interference difficulties or want to run more than one Eos system in the house, a unique ID can be given to the client speakers, so that they and the bass station will only communicate with each other.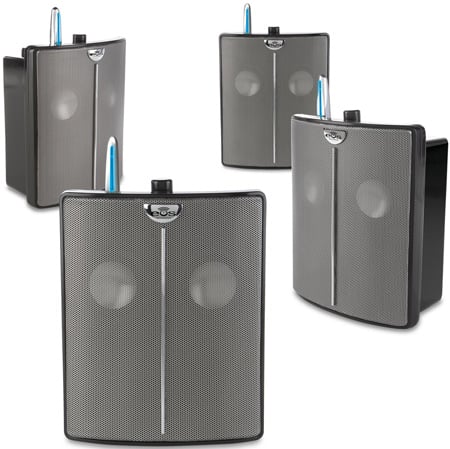 Speakers can be wall-mounted directly from the mains socket
Working in 'normal' mode, the system is non-specific and just attaches itself to the first four client Eos speakers it finds. There is also a booster switch on the rear of the base station with extends the wireless range of the system and signal strength. This Range EX feature introduces a delay of 64ms betweens the base station playback and the client speaker as opposed to 20ms in normal mode. The system uses that extra time to check whether the audio packets have been received correctly and if not, it resends them.
Verdict
The only really niggles are the remote functions only provide very basic control of the iPod docked in the station and a proper stereo phono input would be welcome to link up hi-fi gear. While not as elegant as some wireless solutions, it's quick and easy to set up and delivers remarkable sound quality for the price. ®
More Speaker Set Reviews...
| | | | |
| --- | --- | --- | --- |
| Altec Lansing M812 Octiv Air | Logic3 Valve80 | Edifier Luna 5 | Griffin Evolve |

IntelliTouch Eos wireless iPod speaker system
Nice price, simple setup and great sound thanks to the SRS WOW factor
COMMENTS
Multi-room audio
I bought a wireless multi-room audio system two or three years back. You get a little transmitter that plugs into anything with a 3.5mm audio jack (or phono, with the right adapter) and you get two independant speakers, which can be used in different rooms in mono-configuration, or as a pair of stereo speakers at the flick of a switch. They run off six AA rechargeables each (built in charging system) so are plenty loud enough, and the whole setup only cost about 35 quid, so this seems like incredibly poor value to me.
If you can find the right model, one of those RF devices intended for a car will work reasonably well once you have soldered on a sensible antenna.
So, do you think I am going to be spending £350 to get a slightly worse setup?