IntelliTouch Eos wireless iPod speaker system
Compact, punchy, multi-zone music setup
So how does it sound? The base station's stereo speakers and ported sub-woofer – mounted on the base of the unit – do provide a surprisingly dynamic performance. The bass response is particularly good for a unit of this size and a genuinely wide stereo field is created with a pleasing level of detail across all frequencies.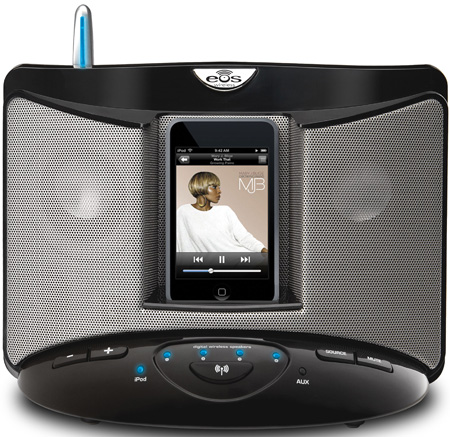 Sonic boom: psychoacoustic algorithms bolster the bass response
To give the unit a real test, we drilled through some tracks from Led Zeppelin's BBC Session album. This is a pretty raw recording with lots of very fuzzy bass to catch out the main unit. We also chose to feed the tunes through the 3.5 mm jack over a 192kb/s MP3 signal using a fairly ancient Sony Walkman. We have to say the unit coped really well, with only a very minimal drop in sound quality from using the main iPod dock, How Many More Times came over with the grimy bass sounds, huge drums and squealing vocals mostly intact.
Intellitouch calls the Eos wireless delivery system GigaWave. It operates at 2.4GHz and uses error correction and a frequency hopping scheme to deliver a claimed range of up to 50 metres through walls and ceilings, for both indoor and outdoor environments. Outdoor use is limited by the fact that all the clients need a power source, but the amount of power used by the system would probably make any battery approach of limited use – maybe next time?
Getting started with the wireless speakers is very easy. Simply place the clients in the desired areas, press the wireless button on the base station, turn the client on and about two seconds later it's all up and running. A really neat trick the client speaker has up its sleeve is the ability to mount itself on the wall by plugging directly into the wall socket.
This is a tidy space saving feature, but in case the approach does not work for your room or shed layout, the power pack is easily removed from the back of the unit and acts in a normal plug and cable approach. The sound quality from the client speakers, again, was surprisingly good.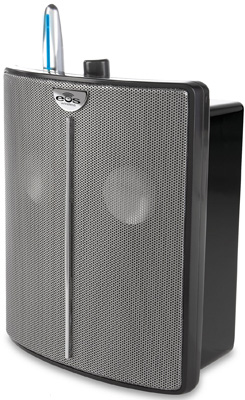 Noise reduction: each speaker has a black volume control knob, next to the antenna
The speaker units use the same stereo and ported woofer approach and this time we gave it something a little more considered in the form of Ian Dury and The Blockheads' New Boots and Panties album, this time through the main iPod dock. The recording's eclectic mix of rock, jazz, punk and poetry came across well with subtler moments of piano doing just as well as the more soaring saxophone sections.
Sponsored: Minds Mastering Machines - Call for papers now open