Nokia's next-gen tablet OS uncovered?
Maemo mole talks of 2010 release
A screenshot has popped up online that's claimed to detail part of an upcoming Nokia operating system for internet tablets.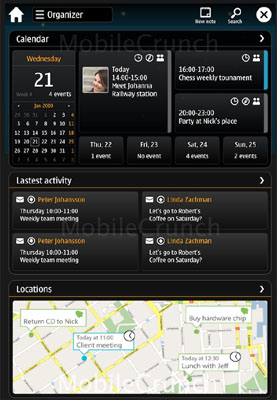 Apparently this UI could feature on a Nokia tablet next year
Called "Maemo Harmattan", the image reveals a vertically scrollable display of the OS' "Organizer" menu and – according to a source that sent the pic to website MobileCrunch – is set to be rolled out on Nokia devices late next year.
In case you think that Nokia expects its tablets to be held in portrait orientation, the blue area you can see is what will actually appear on the tablet's landscape display. Presumably, you'd swipe the screen with your finger to scroll to the other areas.
Each of the panels fitted into Maemo Harmattan's vertically scrolling UI is a widget, each of which is said to be "deeply integrated" into the rest of the OS. For example, we imagine that if Peter Johansson changes the date of his weekly team meeting then the diaries of everyone attending will be also automatically updated.
Real-time locations of friends, colleagues and family appear to be shown at the bottom of the page, but in a style more akin to Google Latitude than Nokia Maps.
Reminders have also been put on the map, so if you need to drop a CD off to a friend en-route to your meeting then the OS will remind you and show you where to go.
The screenshot looks pretty authentic, aside from a few spelling errors. But then everione makes mistakes, don't they? ®
Sponsored: Minds Mastering Machines - Call for papers now open