Swimmer's camcorder surfaces
Capture the briny deep's secrets
A waterproof head-mounted camcorder for swimmers has surfaced on the website of quirky gadget retailer Thanko.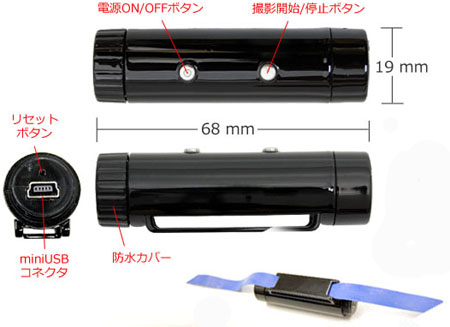 Thanko's underwater camcorder: perfect for pool-side holidays?
Measuring just 19 x 68mm, the camera's designed to be threaded onto an elastic strap that water lovers could then put around their heads to capture a swimmer's-eye-view of the world at depths of up to 20m.
Although we can think of several circumstances where the gadget's use would probably get you thrown out of the pool, the tiny camcorder would be great for recording fish when you're swimming around the Great Barrier Reef or descending down a sky-high water slide.
It features 2GB of internal storage, and data's transferred over a mini USB connection. But don't forget to screw the watertight lid over the USB port or your deep sea documentary will be all washed up.
Video's captured at up to 25f/s and at a resolution of 320 x 240. The whole unit weighs just 22g.
Thanko's head-mounted waterproof camcorder's available now online for (£87/€99/$133). ®
COMMENTS
Nothing new
Try looking at Scan, CPC or probably 100 other places out there!
You'll find similar devices, with larger memory and (sometimes) tiny screens for playback.
Whilst this one is slightly smaller than most, you will miss all the 'proper' camera features that this lacks!
My interest in these small camera's is for caving, but I've yet to find one that will survive a 100m flat out crawl in semi-liquid, gritty mud in my pocket - despite all their claims of waterproof to 50m, rugged, etc.!