Asus Eee PC 1008HA Seashell
The skinniest netbook yet - and the best?
We were more concerned about upgradability, especially with Windows 7 on the horizon. Want to add some extra memory? Impossible without taking the machine to bits. We didn't try it, so we can't honestly say you'd find a spare Dimm slot in there if you did.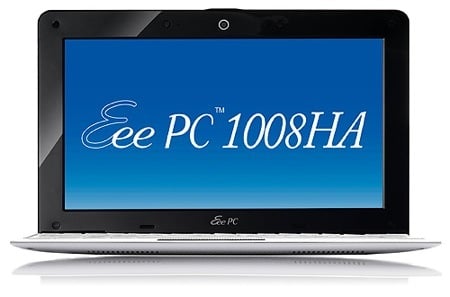 You're paying for portability and performance, not practical upgradability
Final thoughts? The Seashell has Bluetooth 2.1+EDR and 802.11n Wi-Fi, so Asus isn't skimping on wireless connectivity. If you like to listen to music through the speakers, the Eee has a very decent volume for a machine this small. If you don't like Windows XP, you'll have to pay the tax anyway, but Ubuntu 9.04 booted up and ran nicely off our Live CD - or as nicely as it can without Wi-Fi. That said, this is a common problem with netbooks, and we're satisfied this could be fixed after a full install.

Then there's the price: £380. We think netbooks should really come in under £300, so you're paying a lot for a great design, it seems. But you do get the fastest netbook out there, top spec Wi-Fi and Bluetooth, and really portable slimness. If you don't like bulk, this is the netbook for you. If you're only interested in price, look elsewhere.

Very easy to carry
Verdict
Get over hang-ups about built-in batteries and you'll see the 1008HA as not just a very, very sexy, slimline netbook but as an eminently portable and a powerful one too. The only aspect we don't like is the very limited upgrade path. We'd like the price to be keener, but you do get an impressive feature set for your money, certainly more than much cheaper netbooks provide. If you're willing to make a few trade-offs, this is one gorgeous netbook. ®
More Netbook Reviews...
| | | | |
| --- | --- | --- | --- |
| Acer Aspire One 751 | HP Mini 2140 | Asus Eee PC 1000HE | Dell Inspiron Mini 12 |

Asus Eee PC 1008HA Seashell
The most powerful, most portable netbook yet, with a gorgeous design but a battery you can't swap and internals that are hard to upgrade.