Asus Eee PC 1008HA Seashell
The skinniest netbook yet - and the best?
Well, sort of. It's a mini port that requires an adaptor. No sweat, though. In a piece of truly excellent engineering, said adaptor fits smoothly into a dedicated bay on the base of the netbook so you need never risk leaving it at home.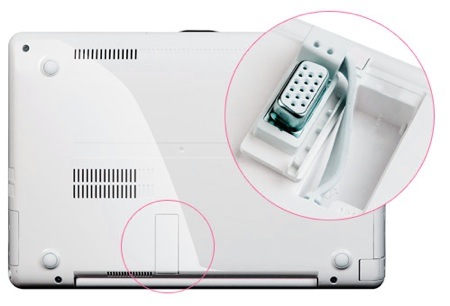 The built-in but removable VGA adaptor is smart
When closed, the covers keep the 1008HA's lines intact, but while its aesthetically pleasing, it's just not practical. Folk with large USB gadgets, like TV tuners, will need extension cables as the 1008HA's ports are inset. Again, the upcoming 1005H improves on this with standard, flush-fitted exposed ports.
Many folk will say the same about the integrated battery, but at least you should have no worries about its runtime. Using our standard test - set the screen to maximum brightness, keep the Wi-Fi on and associated with an access point, and loop-play an SD H.264 video until the power goes - the 1008HA lasted 3h 27m minutes.
That's not a class-leading performance, but it puts the 1008HA toward the top of our table. You can double that span for a more typical usage pattern. With some judicious disabling of wireless features and by dimming the backlight, Windows will tell you you've got more than seven hours' runtime.
We'd also point out that the 1008HA remained effectively silent throughout the video and benchmark test. There is a fan in there, but it's darn quiet. And while the machine got hot on the base, it was cool on top.
Video Playback Battery Life Results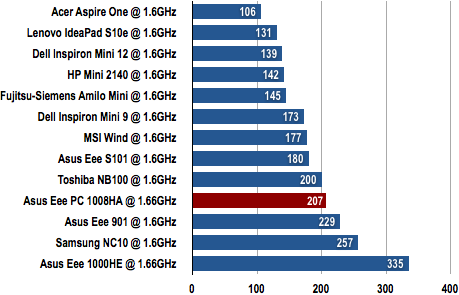 Battery life in minutes
Longer bars are better
Still, there's the issue of an eventual replacement. If the battery goes tits up in the first 12 months, Asus will collect your 1008HA, fit an new power pack and return the machine to you. But in three years' time will you be bothered enough to pay for a replacement should the battery go kaput then? We suspect most folk will just buy a new machine. Most of them will do that even if the battery's replaceable. So why worry about one you can't swap? For 90 per cent of the people likely to consider buying the 1008HA, the sealed in cell isn't really an issue. The remaining ten per cent will look elsewhere in any case.