Asus Eee PC 1008HA Seashell
The skinniest netbook yet - and the best?
The standard Eee status LEDs - power, hard drive activity, wireless and Caps Lock - are here mounted in the hinge, which pivots within the thickness of the machine, angling the screen lower than it is on may other netbooks, including Asus'.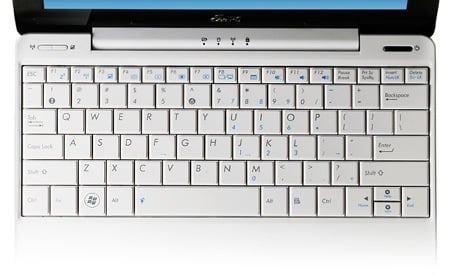 A good keyboard for typing
Below, the keyboard's angular but not the chiclet kind. Still, it's got a reasonably solid foundation, extends almost the full 262mm width of the machine and is comfortable to type on.
Actually, the trackpad's comfortable too. Like the one on the pre-production Seashell, it has no edge, allowing you to run your finger from one side of the 1008HA to the other with no interruption. That was slightly odd before, but Asus has now given the touchpad a bump texture to give you a tactile guide to its limits.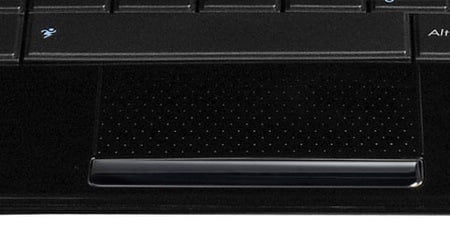 The odd, bumped trackpad is surprisingly nice to use
We like it. You don't slip off the edge and wonder why the cursor's not moving yet there's no edge to get in the way. The bumps are tiny and don't impede your fingers progress. It's multi-touch too, but only to allow pinch-to-zoom gestures. Where's the two-finger scrolling, Asus? That's the only multi-touch gesture worth having.
The buttons are formed from a single, smooth piece of plastic, but unlike the ones on many early netbooks, the Seashell's have a gentle action, triggering with a light tap rather than a good, hard push. Thumbs up for that.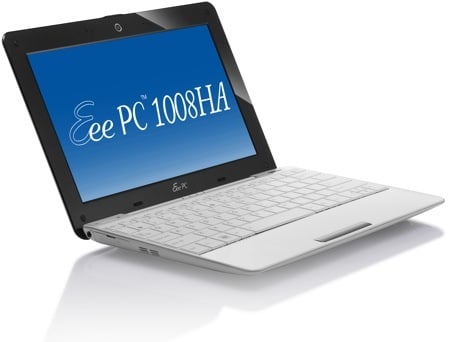 One of the more work-friendly netbooks around
We're less sure about the covers over the 1008HA's ports - which include only two, not three USB sockets, one on each side. They're no substitute for the Air's flip-down port mechanism, leaving you to pull off plastic covers every time you need a port. Unlike the Air, you do get a second USB port, Ethernet (behind its own cover, which opens sideways and barely far enough for the cable header), a 3.5 audio in as well as an headphones port, and a VGA connector.