Asus Eee PC 1008HA Seashell
The skinniest netbook yet - and the best?
You might consider changing the hard drive because, as our tests show, it's not the quickest of netbook HDDs, falling well behind the drives in rival mini laptops. Not so the 1008HA's 1.66GHz Atom N280 processor and its 1GB of DDR 2 memory which, tested in PCMark05, showed it to be the fastest netbook we've yet had in for testing.
PCMark05 Results
CPU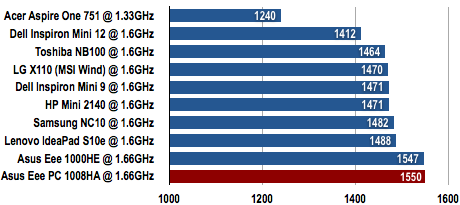 Longer bars are better
Like other Eees, the 1008HA has Asus' Super Hybrid Engine utility. Yes, it's a daft name, but it does something potentially useful: lets you over- or underclock the CPU. Put it into Super Performance mode, and the Atom runs at 1.71GHz. Flip it to the Power Saving setting, and the clock speed falls to 1.4GHz. That said, they made only negligible differences to the Seashell's PCMark05 scores. The results quoted above were taken running at standard speed.
PCMark05 Results
Memory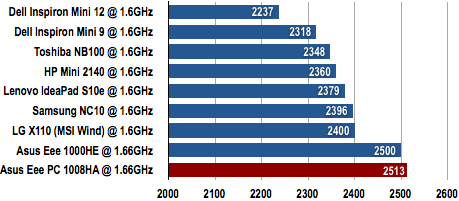 Longer bars are better
We also ran 3DMark06 - the 1008HA's score of 80 was weak but not at all surprising given the use of Intel's GMA 950 integrated graphics core. Since the Seashell's screen is the regulation 10.1in with a 1024 x 600 resolution - gloss covered with an LED backlight - any HD content you play is going to be downscaled anyway, but the machine had no trouble playing our standard-definition H.264 video full screen, even with the CPU in Power Saving mode. So the slower-then-par hard drive was no impediment to smooth playback either. Indeed, in general usage the 1008HA's HDD didn't seem slow at all.
PCMark05 Results
Hard Drive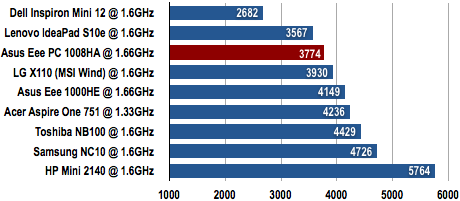 Longer bars are better
The screen's glossy bezel is black no matter whether you have white 1008HA or a black, blue or red one. The single-colour machine we tested looked good, but it inevitably shows up fingerprints. The screen surround contains a 1.3Mp webcam - most netbook cams are 0.3Mp - and there are two array microphones in there too, to improve VoIP call pick-up.