Nortel spin-out preps FCoE switches for blade servers
Rack switches with FCoE later this year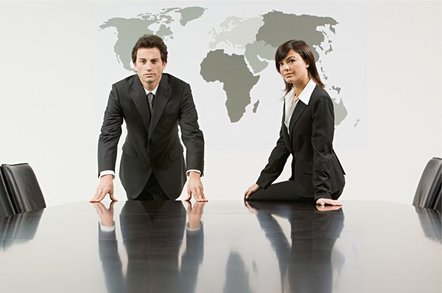 Blade Network Technologies - the spinout from Canadian telecom giant Nortel that has built a nice little business supplying switches for blade servers - is today at the Interop extravaganza in Las Vegas showing off the Fibre Channel over Ethernet converged switches that will eventually be resold by IBM, Hewlett-Packard, and perhaps others.
Any server, storage array, or switch maker that wants to survive is pretty much going to have to adopt FCoE in one form or another. Networking giant Cisco Systems is offering its own flavor of enhanced and converged Ethernet, which it calls Data Center Ethernet. This technology is at the heart of its "California" Unified Computing System.
The features that were created for Fibre Channel and InfiniBand fabrics are being grafted atop of Ethernet, allowing for the convergence of storage and server networking protocols onto a single Converged Enhanced Ethernet (CEE) backbone. Hence the old joke: "I don't know what the future of networking will be, but I know it will be called Ethernet."
Fibre Channel protocols linking servers to storage are not going away - no one wants to do rip and replace - but companies want to simplify their networks to cut down on administration costs and networking gear.
Moreover, the advent of faster processors - not just limited to Intel's Nehalem EP Xeons and AMD's Shanghai Opterons, although the market is dominated by these two chips - with faster memory and I/O buses means that networking has to step up to keep pace.
The advent of commercial-grade server virtualisation on x64 platforms has also driven up the need for more bandwidth as network links are virtualised, and also requires server makers to get their switch equipment in some way virtualised so virtual machines can flow around networks of servers and storage and still maintain their security settings.
So not only do networks need to converge, but the industry now needs 10 Gigabit Ethernet to go mainstream. Luckily, 10GE networks have enough bandwidth to support converged storage and server networking loads at exactly the same time that the price of a 10GE port is starting to dive.
"You really need 10 Gigabit Ethernet today, and we are seeing a massive move to 10 Gigabit Ethernet now after years of waiting for it," says Dan Tuchler, vice president of product management and strategy at BNT. "That said, no one wants to have a 'do over.' People want to deploy pods of 10 GE and do their transition one step at a time. The general consensus is that Fibre Channel backbones won't go away, but the good bit is that when you make Ethernet lossless - Fibre Channel does not tolerate dropped bits like Ethernet used to - you also make iSCSI better."
The blade server switch that BNT is showing off today is being labelled "FCoE-ready" in as much as it is able to support CEE traffic, but the gateways that will link it out to Fibre Channel storage arrays (which will be coming from multiple vendors) are not expected to be ready until later this year. The BNT switch has ten 10GE uplinks, and Tuchler says that the switch will be able to handle a 100GE uplink when that standard emerges.
The switch has 24 10GE ports to link to servers, which include SFP+ fiber optics or SFP+ twinax cables as well as Gigabit Ethernet optical links for legacy connections. BNT says the switch has 480Gb/sec of aggregate, bi-directional bandwidth with low latencies. The company has chosen components for the switch, says Tuchler, such that the blade switch uses as much as 75 per cent less power than an external 10GE switch, and says that the new switch will allow companies to deploy 10GE at about 50 per cent less cost inside blade servers compared to using external switches, with pricing to expected to be "well under $500 per port."
Perhaps more significantly for companies that have been looking at using InfiniBand for high performance clusters for data warehousing or for supercomputer workloads, BNT says that with four switches per blade chassis, an IBM BladeCenter setup using the new switch will have 800 Gb/sec of full duplex, low-latency uplink bandwidth, for a total of 1.92 Tb/sec of aggregate bandwidth, companies don't need to do InfiniBand. Of course, InfiniBand advocates will point out that 40 Gb/sec InfiniBand is here and 100 Gb/sec is coming, but InfiniBand has once again been pushed up into a niche by Ethernet, and considering that CEE takes the best bits of InfiniBand and weaves it into Ethernet, the niche is smaller than those who need extremely high bandwidth and low latency.
IBM will start shipping the BMT FCoE-capable 10GE switch in June for its BladeCenter H and BladeCenter HT high-end chassis, with prices expected to be in the range of $12,000. (BNT says that external 10 GE switches with FCoE capability through gateways can run anywhere from $14,000 to $50,000.) It is not clear when HP will sell the new BNT FCoE switch, but it almost certainly will given its past practices and despite its desire to sell its own ProCurve switches. "HP is very happy selling our blade switches," says Tuchler. "They have bigger fish to fry," he adds with a laugh and obviously referring to Cisco's entry into the blade server racket and HP's ongoing competition with Cisco in the broader networking space.
Later this year, BNT's RackSwitch top-of-rack external switches will support the CEE functions, making them FCoE switches as well. And that is where the fun will begin for BNT, because it will be pushing its own brand of external FCoE products and will be able to sell much more broadly than it has been able to do as a big supplier to IBM and HP for their blade boxes. The current RackSwitch G8124 switch supports 24 SFP+ 10GE ports and has a list price of $11,950.
One of the more useful features of the switch is something BNT calls VMready, which is a virtualisation technology embedded into the switch that allows for network settings tied to a virtual machine to be managed by the switch as it is live migrated around a network of servers. This software feature debuted back in January for the external RackSwitch and will be adopted by IBM's variant of the 10 GE FCoE-capable switch that launches in June. However, that VMready capability is not expected to be delivered until the third quarter. HP's existing BNT-made switch, the 1:10Gb Ethernet BL-c Switch, supports the VMready feature.
One last bit of news. BNT says that StoneFly has chosen the RackSwith G8124 switch as the preferred 10GE switch for its Voyager iSCSI SAN appliances. ®
Sponsored: Minds Mastering Machines - Call for papers now open