Hippus HandshoeMouse
It's a saddle for your hand
Review Using a mouse in the wrong way for long periods of time will gradually and unremittingly put strain on your forearm. If you are unlucky, the damage may be permanent, leaving you in constant pain. So while you chuckle away at this funny looking mouse, bear in mind that it might just prevent years of suffering and save your livelihood.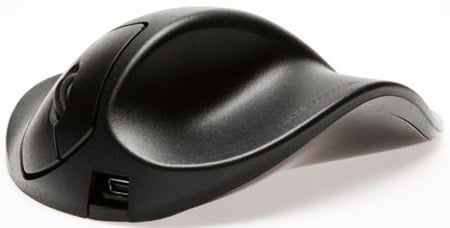 Hippus's HandshoeMouse: a design based on medical research
According to its Dutch manufacturer, Hippus, the HandshoeMouse was developed from ergonomic studies by university medical schools in Rotterdam and Maastricht. These studies show that conventional computer mice induce users to over-exert certain muscles in the hand and arm, which can cause problems all the way up to the neck. The objective, then, was to design a mouse that encouraged the hand to relax.
It may look like a maquette by Henry Moore or a toy stingray, but the HandshoeMouse is supposed to act like a saddle for your hand, requiring no active tension to control.
There is nothing symmetrical in the design. A deep ridge down one side gives your thumb somewhere to rest, rather than something to grip on. A gentler curve down the other side allows your four fingers to lie naturally and loosely together over the top of the mouse. The bulbous central part of the device supports your palm, while the extended flat area towards the back keeps your wrist off the desk top.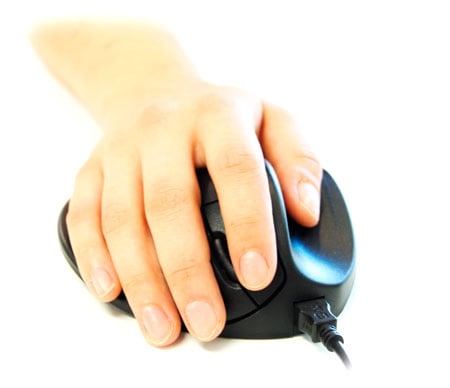 A relaxing hand job from Holland
This support for the wrist is important, as Hippus wants you to relearn how to use a mouse without lots of wrist action. Instead, you should allow your entire forearm to move, which, in turn, allows you to relax your shoulder. Conventional mice usage, by contrast, tends to lead most users to tighten their armpit and restrict the blood circulation -- increasingly so when under pressure.
COMMENTS
Crazy
It's just the ancient old Logitech Mouseman with a skirt attached. Nothing new at all other than an insane pricetag. All been done before and found to be utterly unwanted by the user, and utterly going to be unpaid for by management.
Carpal tunnel vs RSI
My girlfriend had her carpal tunnel release surgery a while ago, and she's been really happy with the results. No more pain, and no more numbness, just a pair of useful hands once again.
Interestingly the consultant she used was of the opinion that there's no such thing as RSI, only carpal tunnel syndrome.
It's important to get a good surgeon though; my girlfriend was back at work in less than a week after her surgery, and was completely pain free after a month.
One of her colleagues had it done by a different surgeon and was off work for three months, and the colleague is still in pain even now. Conversely my girlfriend can't believe how much better her life is now.
I'll also mention that although carpal tunnel is one problem, there can be other things that cause hand problems too. Just because you have pain doesn't always mean it's carpal tunnel syndrome.
Personally, I suggest you get a mouse without a wheel; a rocker switch is far better ergonomically IMO. It's that come hither motion on the wheel that caused me problems.
RSI
The best solution I have found for me that deals with the RSI is a graphics tablet, roughly £29 from Argos. It can replace a mouse quite effectively if you get the right one.
Cause of RSI
I think my RSI is connected with going blind. Enough said!
'Trackerballs not always the answer '
I posted above re. a kensington mouse. It has a very large ball and you roll it with the flat of your hand. No thumb needed. I repeat, I recommend it.
Dead right about health & safety & ergonomics, but everyone seems to find out the hard way.