Green GT rolls out sexy e-supercar
LMPE2011 set for race and road debuts
Leccy Tech Hot on the heels of its recent leccy racing car announcement, Swiss car maker Green GT has unveiled designs for its next-generation Le Mans Prototype (LMP) racer that could also, potentially, become a road car.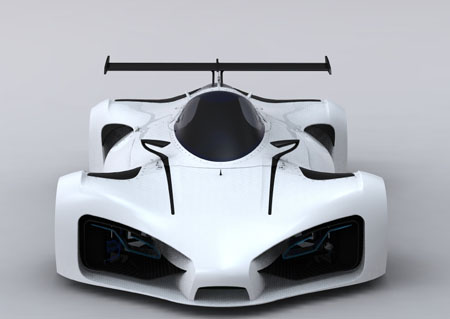 Green GT's LMPE2011: sexy and leccy
Designed by a team of students from the International School of Design at Valenciennes in Northern France, the GreenGT LMPE2011 is certainly eye-catching, although we don't recall Le Mans race rules allowing air brakes - assuming that's what those four sculpted carbon fibre pop-ups actually are.
Underneath its Imperial Stormtrooper helmet-inspired shell, the car features the same chassis and power train as the GreenGT. Register Hardware believes this attribute makes the latest super-slick racer more likely to see the light of day than some of the usual electric supercar vapourware we've come across, such as the KTM AX.
Christophe Schwartz, Head of Engineering at Green GT, said the LMPE2011 "could become our 2011 Le Mans Prototype electric racer".

A road-going model could also be developed
"It would be amazing to create two prototype race cars to compete in the 2011 24 hours of Le Mans," added Schwartz – hinting that both the LMPE2011 and recently unveiled GreenGT could make it into LMP races in the near future.
Eco-minded rich boys may also want to put some cash aside, because Schwartz said that the LMPE2011 "could even become an electric road going supercar". ®
Sponsored: Minds Mastering Machines - Call for papers now open