Obama eyes next NASA boss
A Bolden choice
US President Barak Obama is expected to tap four-time shuttle astronaut and retired Marine major general Charles Bolden as NASA's next Deputy Administrator, according to several news reports.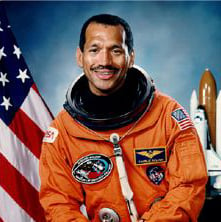 Charles Bolden, Image courtesy NASA
Pending senate approval, Bolden would be the first black person and second astronaut to take the post. He would also oversee the space agency's transition to the Ares rocket and Orion spacecraft program, as well as push NASA's plans for a new lunar program.
Obama's science adviser told Congress on Thursday that NASA's next administrator would be announced "very shortly" and said the president planned to meet with a candidate Monday.
Bolden is scheduled to meet Obama that day, the Wall Street Journal and the Los Angeles Times reports, citing an unnamed administration official — although the decision still "isn't a done deal yet."
Contrarily, Space News reports they've contacted Bolden by phone Friday, and he claimed he doesn't have plans to meet with White House officials to discuss the nomination.
Bolden was aboard four space flights at NASA (STS-61C, STS-31, STS-45, and STS-60), twice as shuttle commander. He was among the crew members that deployed the Hubble Space Telescope in 1990 and commanded shuttle Discovery in 1994 in the first NASA mission with a Russian cosmonaut aboard.
A graduate of the US Naval Academy in 1968, Bolden flew more than 100 combat missions during the Vietnam War as a naval aviator and earned honors including the Distinguished Flying Cross.
Bolden retired from the US Marine Corps in 2003 as commanding general of the Third Marine Aircraft Wing and serving as deputy commander of US forces in Japan. ®
Sponsored: Minds Mastering Machines - Call for papers now open