EZY Technologies MyXerver MX3600
Low cost NAS box that doesn't skimp on features
Review Most NAS servers essentially do one thing – store data and make it available over a network, usually for the home or small business. It's not a complicated job, but it is an essential one, and suits most users. Computing manufacturer EZY Technologies, has other ideas, seeing the humble NAS server as having more to offer and becoming a valued asset, rather than an afterthought.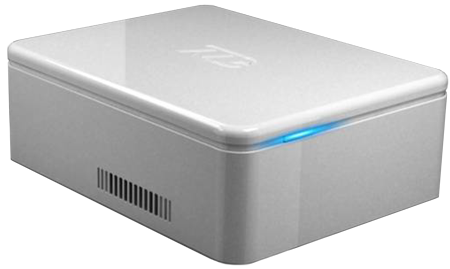 EZY Technologies' MyXerver MX3600
To that end, EZY has come up with the MyXerver. It's a NAS server that not only looks good, but also offers automatic backup, web access and UPnP functionality above the norm for this sort of device, but not the price. Its styling is understated, but none the worse for that, and is available in three neutral colours – black, white, and grey – so it won't stand out, but with sleek lines and glossy plastic finish, it's certainly no eyesore.
Our test model was packing 320GB but the MyXerver will initially only be available in 500GB and one terabyte flavours at a cost of £118 and £144 respectively – certainly competitively priced against comparable NAS servers. There's little to break the smooth contours of the 171 x 135 x 58mm box except a gently glowing ice blue light in one corner, and a ventilation port on the side. There doesn't appear to be a fan, and aside from the occasional hard disk spin, it's pretty much silent.
Around the back there's a power button, power plug, Gigabit Ethernet port, USB 2.0 port and a USB eject button. One of the MyXerver's many nifty features is that you can automatically back up data from a USB stick – or anything else connected by USB – by pressing and holding the eject button. Getting starting, we plugged it into the Ethernet port on our wireless router with the supplied cable, powered it up and, once we'd loaded the supplied CD Mac and PC compatible software onto our Windows machine, we were all ready to go. Hard to see how it could have been any simpler really.
The server can be easily found on your PC's Network Places, but as usual, the file-based interface feels a bit functional – mother's milk to seasoned network architects perhaps, but a little bit sparse and techy for those more used to more indulgent applications. Fortunately, the functionality is straightforward – you create files, map your data to them, and save them.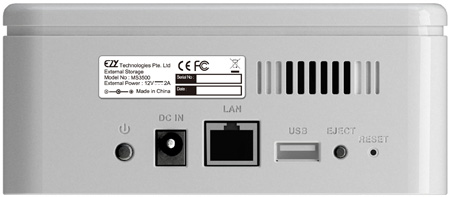 Pity there's only one USB port, as it supports printers and other storage devices
You can also set up folders with different access criteria, depending on who you want to be able to see them. And once you've set up your network, you don't necessarily have to have your computer switched on to use the MyXerver. If you set up a lengthy Bit Torrent download, for example, you can switch your computer off, and the MyXerver will carry on accepting the data until the job's done.
Sponsored: Minds Mastering Machines - Call for papers now open