Atlantis grapples Hubble
First chance to stretch space legs today, too
Space shuttle Atlantis yesterday deployed its robotic arm to successfully capture the Hubble Space Telescope, NASA reports.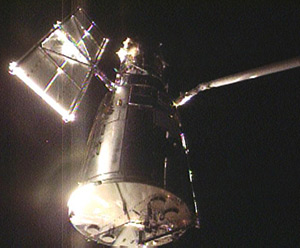 At the controls for the "grapple" (see pic) was mission specialist Megan McArthur, who grabbed the venerable eye in the sky at 17:14 GMT before manoeuvring it onto a "Flight Support System maintenance platform" in Atlantis's payload bay.
Astronauts John Grunsfeld and Drew Feustel are now preparing for the first of STS-125's five spacewalks. They're scheduled to get down to work at 12:16 GMT today, taking out Hubble's Wide Field Planetary Camera 2 and installing the new Wide Field Camera 3.
They'll also replace the failed data processing unit which caused considerable delays in this final servicing mission to Hubble, and are additionally tasked with attaching a "soft capture mechanism" which will allow a future mission to "capture Hubble for de-orbit at the end of its life".
On the ground, NASA continues to examine images of Atlantis's thermal protection tiles. Although mission managers have declared them "safe for re-entry", the shuttle's crew was earlier today told that "imagery from scans of the underbelly and scans of the crew cabin did not sufficiently overlap".
This means there is a row of 16 tiles "in an area of the port side of the shuttle's nose" not completely covered. NASA has requested further imagery of the offending area - a quick 45-minute survey which it hopes can be done on flight day 5.
NASA has a STS-125 mission summary here (pdf) and overview here. ®
Sponsored: Minds Mastering Machines - Call for papers now open