iRiver P7 8GB portable media player
Playing to win?
Like the O2, the P7 comes with memory card expansion, which is MicroSD rather than SD proper. iRiver reckons the slot is good to go with cards of up to 8GB but, when visiting iRiver's CES booth, we were told it supports 16GB cards too. Since a 4GB MicroSDHC was the largest capacity card we had to hand, we will have to take it on trust.

Certainly one of the tidiest PMPs around
Unlike the O2 the P7 manages to combine media stored on the card with that stored on the internal memory into a single media library. We almost wept for joy when we discovered that iRiver have finally worked out how to accomplish this. It's a trick Sandisk's players have been capable off since dinosaurs roamed the earth. Also, like Sandisk's players, the P7 takes a little while to rebuild its combined content database when new content is added, but it's a small price to pay for the convenience.
According to the manufacturer the P7 will pump out tunes for 50 hours on a full charge and keep video running for 7. Our tests gave us results of 39 and 6.5 respectively, which is significantly better than the O2 for audio but identical for video.
The 8GB P7 will set you back £169 while the 16GB version costs £199, which is about the same price as the Cowon O2 that only comes in 16GB and above capacities. On balance we'd go for the new iRiver. Neither is perfect but the P7 has the better UI, supports ID3 tags, combines its on and off board stored media, is the better music player – though the Cowon is the superior video device of the two – and has the better battery life. The P7 is also smaller, lighter, more attractive, and a wee bit cheaper.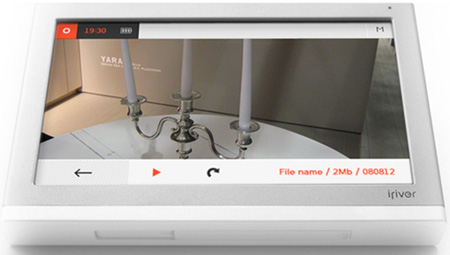 Off-axis viewing can be a bit washed out, so stay in the sweet spot.
Incidentally, our test device arrived with firmware 1.13 on it but we updated to 1.15 for the test. Doubtless some of the P7's stranger foibles, such as not recognising FLAC ID3 tags and not adding tracks to playlists, will be sorted down the line via additional firmware updates which tend to come thick and fast from iRiver.
Verdict
The P7 may not be perfect, but it's the most convincing product iRiver have put out in quite a while. We liked the look and feel and welcome that iRiver has, at last, managed to combine both on-board memory and card storage data into one library. File support is pretty solid, only let down by the slightly flaky H.264 playback and issues with ID3 tags. Audio performance was top notch and video playback was better than anticipated. Moreover, the touch-screen 'magazine' UI is not only rather clever and well thought out, but it actually works. After the Spinn's dog's breakfast of a UI, who'd have thought? ®
Thanks to AdvancedMP3Players for the loan of the review unit.
More PMP Reviews...
| | | | |
| --- | --- | --- | --- |
| Samsung P3 | Cowon iAudio O2 | Archos 7 | Sony Walkman S |
Sponsored: Minds Mastering Machines - Call for papers now open

iRiver P7 8GB portable media player
iRiver's best product for quite some while, the P7 just shades Cowon's O2 as our favourite Flash-based PMP that isn't made by Apple.
Price:
8GB £169, 16GB £199 RRP