iRiver P7 8GB portable media player
Playing to win?
Like all the best PMP's, video playback isn't confined to the screen's native resolution or less. AVI, MPEG 4 and RealMedia files can be handled at resolutions up to 800 x 480, while WMV files can be as large as 640 x 480. However, tests revealed that a 720 x 480 WMV file played with minimal frame drop. H.264 support is less robust, with iRiver quoting 352 x 288 as the maximum resolution. It certainly struggled to play a 480 x 272 file and every H.264 file we tried had an annoying band of noise across the very bottom of the screen.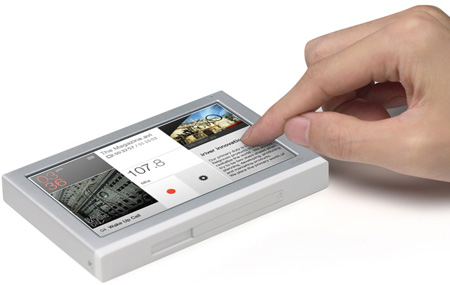 Stylus included, but you'll only use it to prise out the memory card
Though iRiver makes no mention of the P7's DRM capabilities, we found that it supported content downloaded from BBC's iPlayer with no problems at all, which was a pleasant surprise. Though the P7's screen is technically identical to the O2's right down to its 130ppi dot density – for comparison the iPod Touch's screen comes in at 163ppi – it only supports a 262k colour palette rather than the Cowon's 16m.
Given those numbers we were not expecting great things but the P7 actually proved nearly as good a video player as the O2, even the washed out colours and dun lighting of Downfall coming across well. Indeed, that was a video that really highlighted the failings of the Spinn's video playback, despite it having an AMOLED screen. Furthermore, the P7 also proved very capable of handling the various aspect ratios we threw at it. On a down note the player doesn't support SubRip (.SRT) subtitle files and the screen proved rather susceptible to changes in viewing angle – washing out if moving around 20 degrees or more from the optimal position.
One of the very few things we liked about iRiver's Spinn was the audio quality, which we rated very highly indeed. This is true for the P7 too, which is sonically identical – fitted with the same SRS-WOW HD 3D sound modification software. In short, this means that in the audio quality stakes, the P7 beats anything Apple has to offer like a red-headed step son, and is right up alongside the best offerings from Sony or Samsung. It also has plenty of volume on tap too.
A feature we particularly like in the P7 is the way the various sound mod settings can be accessed directly from the Now Playing screen and easily altered on the hoof. Of course, getting decent sound from the P7 is dependent on buying a new set of earphones, the standard iRiver issue being rather lacklustre.
Setting up playlists on the P7 is not as easy as it could or should be. To start with, we couldn't work out how to set them up on-board, period. The user guide instructions simply failed to work. Nor did we have any luck synchronising playlists from WMP11 or Winamp.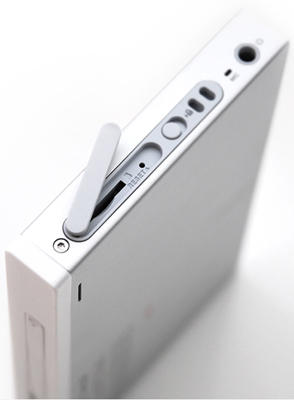 8GB max? The word is it can take 16GB cards
Luckily, you can set them up using iRiver's bundled media management application. Agreed, you shouldn't have to resort to a non-standard media app to do this, but at least iRiver's Plus3 is quick and painless to use. However, it is Windows-only, so if you are a Mac or Linux user and you want to set up a playlist you are, frankly, stuffed. Speaking of matters OS-related, the P7 has a handy MTP/MSC switch, so getting it to pop up on the desktops of Mac and Linux machines is not an issue.
Sponsored: Minds Mastering Machines - Call for papers now open