Intel Xeon W5580 workstation desktop processor
Worth sticking in your PC?
Cinebench backs this up. The single-core test shows the W5580 and Core 2 Extreme QX9775 have similar performance at the same clock speed, although it seems that SSE 4.2 boosts the W5580 to the tune of 15 per cent. In the Multiple CPU test, the W5580 stretches its advantage to 30 per cent so it would seem that HyperThreading has an effect. We were able to overclock Skulltrail to 4.0GHz with the result that it very nearly matched the slower W5580 system. The older Xeon systems suffered horribly in Cinebench.
Cinebench Results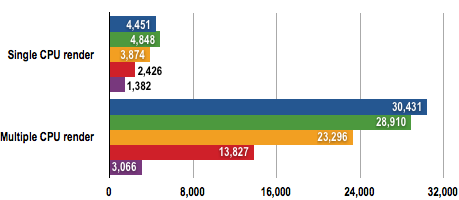 Longer bars are better

POV-Ray is showing its age and is heavily influenced by the number of CPU cores and their clock speed. The 3.2GHz Skulltrail system completed the test in the same time as W5580 so it's clear that HyperThreading is an irrelevance here. The overclocked Skulltrail was considerably faster, showing that raw clock speed is what matters. Once again, the older Xeon X5365 struggled pitifully, clearly hampered by the lack of cores and clock speed but that doesn't explain all of the deficit, so we also have to blame rudimentary SSE support.
POV-Ray Results

Rendering time in Seconds (S)
Shorter bars are better
The power draw for the various systems is illuminating. We've got to put the 604-pin Prestonia to one side, as the AGP HD 3850 graphics card is a tiddler compared to the GeForce GTX 280. Looking at the three newer systems, the trend is definitely toward reduced power consumption. At idle, the 3.2GHz Skulltrail system draws 10W less than the 3.0GHz V8 system. This gap rises to 35W under load. The Xeon W5580 draws 35W less than Skulltrail at idle and 45W less under load, so it's a useful step down in power from V8 to Skulltrail to W5580.
Power Draw Results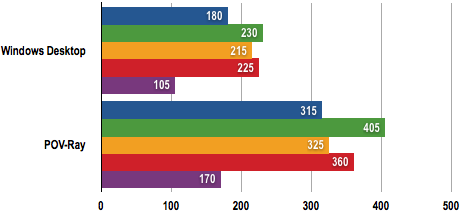 Power consumption in Watts (W)

We're happy to save power but the main advantage of Xeon W5580 is that it is incredibly cool in operation and runs with the bare minimum of noise.
Sponsored: Minds Mastering Machines - Call for papers now open