Linutop 2
Linux desktop lightweight – in more ways than one?
If the Linutop were a quarter of the price, then it might have a role as an entry-level computer for those unable to afford a full-power PC. Indeed, there are devices available at that sort of price-point, but they're horribly limited – a 200MHz processor and just 128MB of RAM. That's a mid-1990s level spec, and even Linux struggles to run effectively on something so dramatically constrained.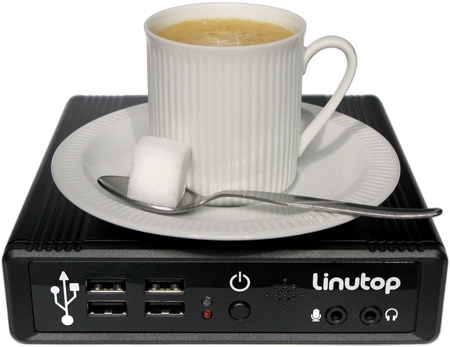 Good companions: tea and a penguin
But for the price of the Linutop 2, you could build a basic dual-core 64-bit desktop PC with a hard disk, offering something like ten times the performance and vastly more potential. It will require about 50 times the electricity, though. If getting power is a real problem, you'd be better off with a netbook.
Verdict
As a general-purpose computer, forget it. If you need a standalone machine to drive an interactive display, a digital noticeboard or some other non-performance critical role, then the Linutop 2 is ideal, and about half the price of a Windows XP Embedded thin client. It's simple, tough and uses only a trickle of power. Set Firefox to load at bootup with a custom homepage and all it would take is some HTML for a customised display – with little or no Linux knowledge needed and no need for a server to boot off. Alternatively, rewrite or replace the OS and embed the whole box into your product to top things off. ®
More Desktop PC Reviews...
| | | | |
| --- | --- | --- | --- |
| Asus Eee Box B206 | Dell Studio Hybrid | Shuttle X27D | Asus Eee Box |
Sponsored: Minds Mastering Machines - Call for papers now open

Linutop 2
The Linutop is a clever little box and very capable for its size – but it's really a specialist tool.
Price:
€280, approx £247 RRP