Boffins develop bendy, squishy, foldable display
TV clothing edges closer
Scientists have displayed a screen that can be squashed, stretched and folded like rubber.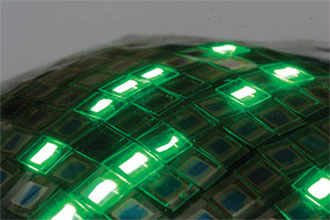 The display's made from organic transistors, carbon nanotubes and fluorescent rubber
Developed by Takao Someya, a Professor of Electronic Engineering, and his team from the University of Tokyo, the screen was recently used to make a face-shaped image with changing expressions. They use the same technique to create a spherical screen for highlighting weather information.
Although still only a prototype measuring 1m², the display consists of hundreds of OLEDs connected to organic transistors through a stretchy circuit board made of carbon nanotubes and fluorescent rubber.
Able to stretch to more than twice its original size, the display can even be folded 1000 times without its performance being affected.
The screen's resolution currently only stretches to 256 monochrome pixels, but the team's reportedly working on increasing the screen's resolution and colour reproduction.
®
Sponsored: Minds Mastering Machines - Call for papers now open