Fujitsu Technology Solutions goes global
Love, x86-style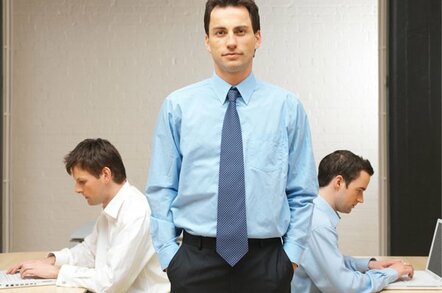 Fujitsu Technology Solutions, previously Fujitsu Siemens Computers, is launching a major push into meeting data centre infrastructure needs using its newly-announced BX900 blade server. It wants to offer infrastructure platforms as well as both managed and supplied infrastructure services.
An infrastructure, in FTS terms, is client and server platform based, essentially meaning desktops and servers. Anything further up the stack, such as applications, will be the responsibility of Fujitsu's consulting organisation.
The general outline of unified data centre infrastructure that is emerging is an integrated platform of virtualised blade servers, with LAN, WAN and storage switching, and storage with management facilities treating these integrated platforms holistically.
Unlike Cisco's UCS offering, which includes Cisco's own switches and blade servers, and unlike HP's Matrix which can include HP's own servers, switches and storage, FTS' offering offers integrated third-party switches and storage. Fujitsu's own Ethernet switch and Eternus storage arrays are available, but you can buy Brocade and Cisco switches, and EMC and NetApp storage from FTS as they are Level 1 partners. This means that their products are integrated enough to be managed through Fujitsu management software.
HDS, HP and IBM storage products are available certified through a level 2 partnership. So the product model here is not to integrate Fujitsu's own networking and storage products into a unified, in-house data centre offering, but to continue to partner with suitable external suppliers for networking and storage technology, although not exclusively so.
Bernard Brandwitte, FTS' product marketing director, said Cisco is not an enemy here. The FTS BX900, unlike HP's Matrix, is not a competitive riposte to Cisco's Unified Computing System, with Brandwitte pointing out that "Cisco is a close partner."
FTS will offer products to its channel, infrastructure platforms to its customers, managed infrastructure services with FTS managing its product in customers' premises, and hosted Infrastructure-as-a-Service (IAAS). This is where FTS-supplied product, located in a Fujitsu data centre, is supplied as a platform service to customers.
A platform service means either desktop or server hardware/operating system combinations, or both, but not applications, those being the responsibility of - or an opportunity for - Fujitsu Consulting. The first IAAS offering will be a desktop one, Workplace As A Service, starting in the next weeks and based on the new BX900 hardware. Server-focussed IAAS offerings will surely follow.
This brings us to the point where we say that the new BX900 server offerings, although strong, are not strong enough. They will not offer enough of a sustainable competitive advantage to prompt a move by existing Dell, HP and IBM data centre customers to move to FTS. This implies that the main area of FTS' focus will be existing customers.
Brandwitte didn't agree with that entirely, saying: "I would not say it's a no-go in existing incumbents in the data centre."
He thinks that HP is firmly entrenched, whereas FTS has some technology advantages over IBM and Dell, making their customers more receptive to an FTS approach. To make headway with HP customers "there has to be some issue with HP." However, he thinks HP wants to own the whole stack and "a lot of customers I talk to like to have an alternative."
He explained FTS' infrastructure sales strategy this way: "We will not be the cost leader, a main appeal of Dell, and technology leadership is not our desired approach. Yes, it's about bringing very high-quality hardware to the market... but the competition will catch up, it being a continuous race. Our desired approach is customer intimacy, making sure we really understand what the customer needs."
"With customers looking for cloud services, for pure hardware, for managed offerings - then we have to be there to offer it. That's our strong point... We're turning into a services-led company. The acquisition of Fujitsu Siemens Computers was very serious. Look at IBM and its Global Services, and HP plus EDS - that combination is a very important one. We acquired a strong services arm from Siemens in 2006, 4,000 people. (Overall) the FSC takeover by Fujitsu is the best thing that could have happened."
"The way it is structured with Fujitsu Services is great. There are 125,000 people in Japan with the rest of us as an appendage. There's more or less nothing in the US market; it's a long way to go."
What customers will FTS focus on? It will look at the upper part of the small and medium enterprise market and the lower part of the enterprise market, customers in the other parts of the enterprise market being large enough to specify and run their own infrastructures. Brandwitte said that the larger enterprises: "are focussed on e-bidding, on how to get the cheapest server in the data centre. They have their own infrastructure people."
There may some vertical focus but infrastructure services are essentially horizontal, particularly at a platform level.
The net of all this is that Fujitsu's strategists have seen the way the wind is blowing and reckon that a global infrastructure services-led approach is the right way to go, with a focus on medium and the lower end of the large enterprise customer segment.
It's important to have technology that's up with the leaders and good value for money but neither a better-mousetrap-than-you approach, nor a cheaper-than-you approach is being adopted. Instead Fujitsu aims to own the customer relationship, and through an intimate embrace understand what its customers want.
Fujitsu wants to be an important player in the unified data centre world. It is the number four IT supplier globally, following HP, IBM and Dell, and wants to grow its business by focussing on infrastructure services based on X86 hardware. That's what today's BX900 launch is all about.
What it says about the long term future of the SPARC micro-processor architecture is another matter entirely. Brandwitte did say about the whole FTS product set: "(Considering) all that FTS offers we possibly have too much. Maybe it's something we have to look at. Freedom of choice and customer intimacy - it's sometimes overwhelming."
There may be a growing tension between this focus on X86 and Fujitsu's SPARC activities. We'll have to see. For now FTS is going global and full tilt into infrastructure services. Its customers are going to get a lot of X86-based loving. ®
Sponsored: Minds Mastering Machines - Call for papers now open