Voltaire's sales plummet in Q1
HPC takes a hit, thanks to Nehalem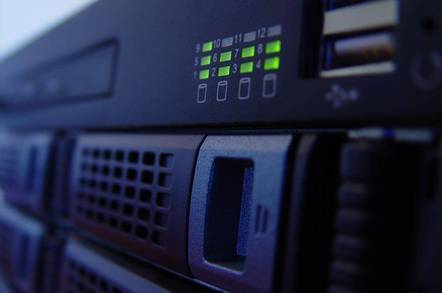 InfiniBand switch maker Voltaire had a pretty terrible thirteen weeks in the first quarter, with sales down 53.6 per cent to $7.7m, and even after driving up gross margins the company reported an operating loss of $5.9m, more than double the operating loss from the year-ago quarter. Net losses increased to $6.1m, up from a $5.5m loss a year ago.
Clearly, tying its fortunes to the InfiniBand market, which is a niche play mainly for clustered databases and parallel supercomputers, is an issue, which is why earlier this week Voltaire announced that it will deliver a set of 10 Gigabit Ethernet switches later this year, allowing it to chase a broader set of customers who can get by with the lower bandwidth and higher latencies of 10GE products. InfiniBand is now up to 40 gigabits/sec of bandwidth per link, four times that of 10GE and including other high-end features that make it suitable for plenty of applications.
According to the company, the real problem with Voltaire's financials is not InfiniBand so much as a the rotten economy and a later-than-expected launch of Intel's "Nehalem EP" Xeon 5500 processors, and to a certain extent delays with Intel's quad-core "Tukwila" Itanium chips. Itanium servers are used as nodes in some high-end database and HPC clusters, and when you pay top dollar for an Itanium box, you sometimes don't mind paying top dollar for InfiniBand links between them.
Speaking with Wall Street analysts, Ronnie Kenneth, Voltaire's chairman and chief executive, said that the company's sales pipeline going into the second quarter was stronger than in the beginning of the first quarter, and reiterated with "cautious confidence" that Voltaire would be able to hit at least $50m in sales for the full 2009 year.
Kenneth added that Voltaire's key HPC vertical was hit by declining sales, but that other verticals saw some growth. Oddly enough, Voltaire saw the strongest revenue contributor in the quarter among financial services firms, with this industry accounting for almost 40 per cent of total orders in Q1. "Even with the acquisitions and consolidations occurring on Wall Street, technology projects are still at the forefront of their agenda," said Kenneth. The energy verticals saw orders grow sixfold in Q1, and accounted for 10 per cent of total orders for InfiniBand switches, gateways, and related products.
HPC clusters, by comparison, accounted for 20 per cent of orders, and Kenneth shifted the blame to Nehalem servers. "Several potential customers elected to wait for the system using Intel's Nehalem processor, given the accelerated performance gained by using Nehalem with our 40 Gigabit/sec product," Kenneth said. "We believe that demand for this vertical will remain strong and anticipate we will see many of these orders come through during the second half of 2009."
Voltaire said on the call that it was on track to ship a 40 Gigabit/sec InfiniBand switch for IBM's BladeCenter chassis before the end of the second quarter - its first tier-one server win inside a blade chassis, apparently - and that Hewlett-Packard had started bundling Voltaire's Grid Director 4036 switch inside of its HPC clusters at the end of March. (The company said that it has shipped 100 of these 4036 switches since they began rolling off the production line in December 2008.)
Voltaire gets 75 to 80 per cent of its sales through OEM partners, and Cisco Systems' foray into the server racket has undoubtedly helped its cause with the server makers, as will the delivery of 10GE switches later this year. No matter how the server makers say they are allied to Cisco, they are plenty annoyed by the "California" Unified Computing System and they will react to its entry into the market aggressively - either by acquiring companies like Voltaire or partnering with them like crazy.
Voltaire ended the quarter with $54.8m in cash and equivalents and has a market capitalization of only $56.6m, and considering that the launch of 10GE products moves its addressable market from a few hundred million dollars to billions of dollars, the wonder is that IBM or HP has not snapped up Voltaire already.
Rackable Systems, which is a big OEM for Voltaire, might have thought about it, but now it is too busy acquiring the carcass of Silicon Graphics - a deal that should be done today if all goes as planned. ®
Sponsored: Minds Mastering Machines - Call for papers now open