Acer Aspire One 751
Netbook with an 11.6in, HD screen
But whereas the zoom on an Apple iPod Touch or iPhone is smooth and seamless, the same can't be said about the 751. Webpages change size in a series of small jerks, for instance. We doubt that the 11.6in screen is the culprit, although there is the possibility that the slowness of multi-touch is emphasised by it as you can get away with murder in terms of image quality when you're working with a small phone screen.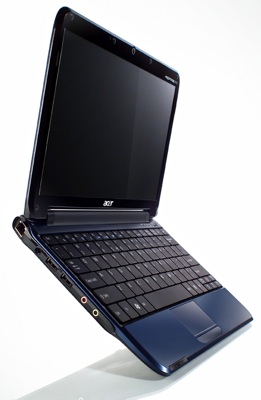 Handheld-oriented CPU on board
We feel that it's more likely that the Intel GMA 500 integrated graphics core in the Intel US15W chipset lies at the root of the, well 'problem' is too strong a word, so let's call it an issue.
Acer has plumped for Windows XP Home rather than Linux or Vista. We can argue about the merits of Linux all day long, but XP is certainly a better choice than Vista when you have a 1.33GHz single-core Atom Z520 and 1GB of memory under the bonnet. Although the clock speed is rather low numerically, this handheld tablet-oriented version of Atom - hence the netbook-beating screen dimensions - performs admirably well, although we did hit an initial snag.
For some reason we couldn't establish an internet connection and the browser crashed with an obscure error message in an oriental language. We're not being coy here - we simply don't know which language it was. We had noted that the 751 is delivered with a stack of bloatware on the 160GB hard drive so we started by removing the McAfee Security Suite in case the Firewall was the guilty party, and - bingo - the browser burst into net-connected life.
Once we'd got over that hurdle we were very happy with the 751. It performs well, although the screen is rather shiny and reflective if you're working under strong light. The machine is very cool and quiet in operation. The stream of warm air coming out of the exhaust vent for the CPU cooler runs at less than 40°C.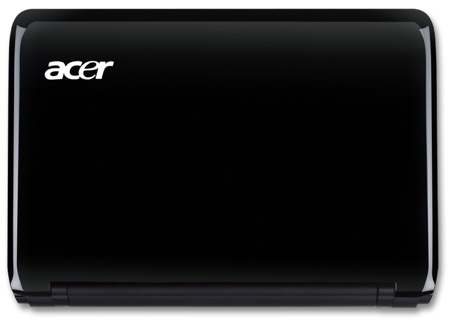 Shiny, shiny
We had no problems watching a 720 HD movie trailer on the Apple QuickTime website so in that sense the graphics work perfectly well but gamers will be bitterly disappointed. In 3DMark06, for example, the Acer scored a mere 86 points which is a new low for modern hardware as the GMA X4500 in Intel's G45 chipset score over 1000 marks. However, the GMA 950 core in other netbooks scores between 106 and 335 - at a lower, 1024 x 600 resolution, at that - so it's not way off the chart.