Panasonic knocks $20,000 off enormo plasma telly's price
Now only £325 an inch
Got 33 grand going spare? Then this Panasonic 103in plasma telly could be yours, assuming you can get it into your living room, of course.
The TH-103PF10UK - despite the last two letters, it's a US model - has a full HD 1080p resolution and while it would have cost you $70,000 (£46,566/€52,243) when it was launched at the end of 2006, Panasonic's now punting it at $50,000 (£33,261/€37,316), it said this week.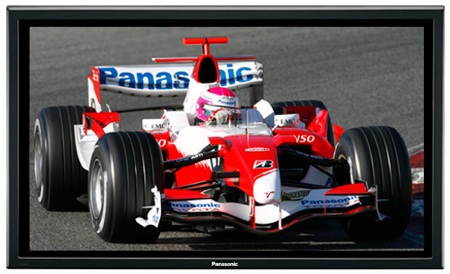 Panasonic's TH-103PF10UK: dwarfs your neighbour's set
Despite the price, it's sold more than 6000 of the monsters, mostly to hotels, casinos and TV studios, but it's clearly feeling the pinch, hence the (hopefully) demand-encouraging 28.6 per cent price cut.
The 2.23 x 1.25m screen upscales source resolutions from 480p upward and can display content from two sources picture in picture. The screen has a 100,000-hour service life, but comes with a three-year warranty. But you'll have to dust it yourself. ®
Sponsored: Fast data protection ROI?