Clickfree creates credit card-sized external SSD
Not accepted in shops or restaurants
Back-up specialist Clickfree has launched a solid-state drive that's the size of a credit card.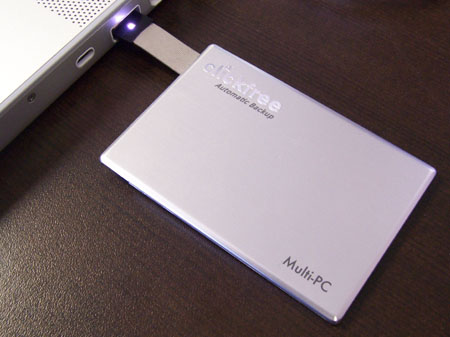 Clickfree's Traveler: provides on-the-go storage and backup
The Traveler's available in 16GB, 32GB or 64GB capacities and is supposedly the perfect addition to a netbook.
Compatible with Vista, XP and Mac OS X 10.5 Leopard, the drive has an integrated USB arm that lets you plug'n'store directly after jacking it into your PC's port.
Clickfree's SSD can also be used for backups on multiple computers, Clickfree stated, because Traveler will automatically start, search, backup and organise content.
But the firm's also launched unit for creating disc-based backups called the DVD Transformer.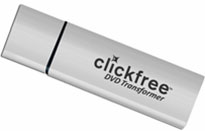 Transformer is, believe it or not, a disc backup product
It enables you to backup your precious files to a variety of optical disc formats, including CDR, CDRW, DVD+R and Dual Layer DVD. The catch? You'll have to supply your own drive, because Transformer's just a USB stick with some software on.
The device supports incremental backups and will keep a record of every disc ever created using it, so if you forget to label a disc then the Transformer will be able to tell you what backup it is and which computer it's from.
Clickfree's Traveler is priced at $80 (£53/€59) for 16GB, $150 (£99/€111) for 32GB and $250 (£166/€186) for 64GB. The DVD Transformer will set you back $40 (£26/€29). ®
Sponsored: Minds Mastering Machines - Call for papers now open