Upping the resolution further, it could just about handle 1080p H264 content – although not all samples we tried played flawlessly. As expected, WMV9 format 1080p files proved to be too much for it, with many dropped frames, and QuickTime playback was still poor.
PCMark05 Results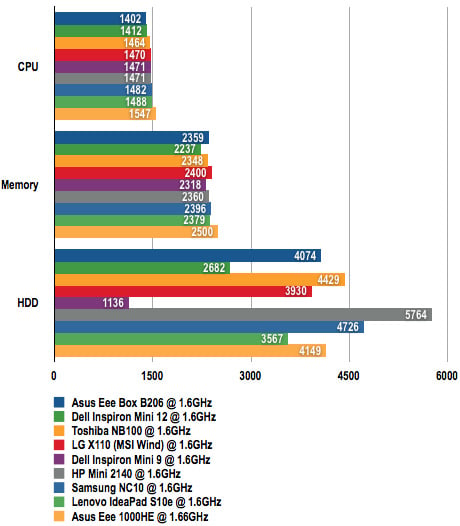 Longer bars are better
Asus also includes its own media player application called Eee Cinema, which gives you a Windows Media Center style interface that you can navigate from the sofa using the remote control. However, Eee Cinema is particularly picky about the types of files it will play, refusing point blank to even acknowledge the existence of MKV, MP4 or QuickTime files, while content to replay WMV and AVI. It could handle up to 720p WMV9 files, but 1080p was too much, resulting in dropped frames.
So, while it's true that the B206 can decode high definition video, it's much more temperamental than a more powerful machine. Match the right content with the appropriate player and it's fine, but it doesn't offer much in the way of flexibility.
COMMENTS
Pity
I'm still looking for something that size that has a decent video capture and IR control (along with an EPG that's at least as good as the one on my 10 year old Tivo). Seems a bit pointless only being able to playback pre-captured video/torrent files.. OTOH that's a failing of all 'media' centres I've seen
does what is says and more
I just don't agree with this review, I bought the 204 model as it was the only one I could find. I wanted a box that was low power, could play movies and do any torrenting/iplayer/4oD. It took a few minutes of research to find that media player classic was the best player to use (there is a user forum at eeeuser.com) but once setup I was amazed at what this little box could do!
It only eat like 15 watts, iplayer and 4oD work perfectly and over wireless too, have downloaded a few 720p videos to test and they all seem to work perfectly. When I read this review I was worried that it couldn't handle 1080p, to be honest not a big loss but thought I would download something at 1080p just to make sure and I can confirm that this works perfectly! I have heard that some people have issues but issually down to using the wrong media player etc.
I am dissapointed in the Reg's review :( I shall download a fe more clips to be 100% sure but so far so good ;) expensive yes but well worth the cash for the kit.
Noise.
Just checked back on this review.
Regarding Noise - this is practically silent. I've had Eve-online running on a 42" LCD and 720p content running and I can't hear it at all. I'm not even convinced there is a fan in there and I do mean that.
Just a shame that boxee and iplayer aren't playing nice at the minute :(
Perfect...
So this machine is slightly better than my more than 6 year old Mac Mini G4, which can handle standard definition content just fine...
Utterly pointless
The Western Digital HD TV player utterly destroys this in every media-playing way, and can be had for 70 quid. El Reg reviewed it in December (95%!), its since been MUCH improved with firmware updates.
Sure its not exactly a computer(unless you install the custom firmware), but once you've lived the dream of no longer having to deal with codecs, settings, framerates and other bollocks, you never want to go back to computers again.