Asus Eee Box B206
HDMI-equipped budget media centre
The big change in the B206 is the addition of an ATI Mobility Radeon HD 3450 graphics chip coupled with 256MB of DDR2 memory, which brings with it the promise of high definition video decoding - something that the Intel Atom processor on its own is a bit too puny to tackle. Now, before you get too excited, it's worth noting that its HD capabilities are far from comprehensive. Our initial attempts to playback high definition material proved disappointing. It was happy enough to chew through standard definition material without a hitch, but as soon as we upped the pixel count it started to stutter.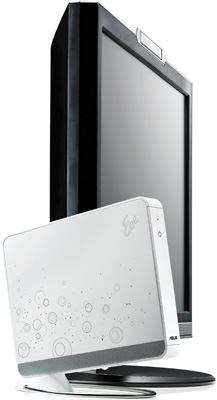 Malcontent: format choices determine a smooth or stuttering playback
Even at 720p resolution both QuickTime and MKV format H264 files refused to play without dropping frames when viewed in VLC. Switching over to Apple's official player had little effect on QuickTime performance. WMV9 format files proved equally bad in VLC, but played back fine when watched in Windows Media Player. Divx at 720p proved better still, capable of playing back without skipping when viewed in both VLC and Windows Media Player.
The reason for the erratic HD performance is due to the fact that the B206's video boost comes from the Radeon graphics card, but only applications that support DirectX Video Acceleration (DXVA) can tap into its power. This feature is supported by applications like WinDVD and PowerDVD, but they don't replay all file formats such as MKV. Luckily, the open source Media Player Classic Home Cinema (MPC-HC) application also includes experimental support for DXVA.
Watching H264 files using MPC-HC resulted in much more impressive performance. Playback of 720P H264 material was smooth without any dropped frames. MPC-HC doesn't support DXVA for WMV, but at 720p it still played without any issues. QuickTime files still dropped frames, however, since MPC-HC just uses the installed version of QuickTime to decode the files.
Sponsored: Minds Mastering Machines - Call for papers now open