Asus Eee Box B206
HDMI-equipped budget media centre
Review On the outside, there's little to distinguish the Asus Eee Box B206 from its predecessor - put the two side by side and you'd be hard pressed to spot the difference. The only real external clue is the DVI connector on the back of the original Eee Box has been replaced by an HDMI port instead.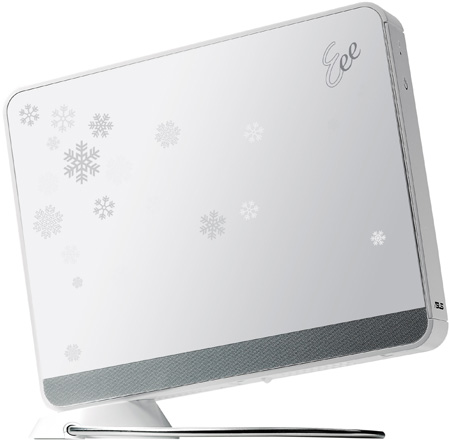 Asus' new Eee Box: double the storage and upgraded graphics
It measures the same slim 27mm wide and stretches 222mm front to back and 178mm tall. In situ it takes up slightly more space because the included stand has a footprint around 104mm wide and the fan design means it's not recommended to use it without it. The front switches and ports are hidden from view behind a folding flap. Push it back and you'll find a power switch, a 5-in-1 memory card reader (SD/SDHC/MS/MS Pro/MMC), two USB ports and headphone and microphone sockets.
Although the flap conceals the physical connectors, it lets the hard drive and power LEDs shine through. If you're considering plonking one next to your big screen TV in the lounge, bear in mind that the blue power light blinks constantly while the machine is in standby – a likely distraction if you're just watching regular TV.
Round the back there's a connector for the Wi-Fi antenna, a power socket, HDMI, two USB ports, Ethernet and an audio line out port that also doubles as a digital SPDIF socket using the supplied adapter in the box.
This revised Eee Box is powered by the same 1.6GHz Intel Atom N270 chip as before and 1GB of DDR II memory. Featuring a 160GB 3Gb/s SATA drive, the hard disc capacity has now doubled and networking speeds won't be an issue either with its 802.11n Wi-Fi and Gigabit Ethernet. Incidentally, there's no sign of the Express Gate quick boot interface that was seen on its predecessor. Hit the power button and after the usual wait you're thrown straight into Windows XP Home Edition.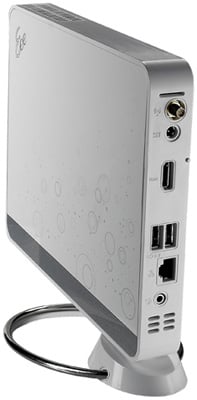 HDMI replaces the DVI interface on the previous model
With the B206, Asus has also included a remote control should you wish to seat it among your other AV kit in your lounge. The infrared receiver isn't built into the main body of the machine – an advantage if you plan to tuck the machine away inside a cabinet. On the downside, using the receiver involves an extra cable dangling from the back that also takes up a USB socket.
COMMENTS
Pity
I'm still looking for something that size that has a decent video capture and IR control (along with an EPG that's at least as good as the one on my 10 year old Tivo). Seems a bit pointless only being able to playback pre-captured video/torrent files.. OTOH that's a failing of all 'media' centres I've seen
does what is says and more
I just don't agree with this review, I bought the 204 model as it was the only one I could find. I wanted a box that was low power, could play movies and do any torrenting/iplayer/4oD. It took a few minutes of research to find that media player classic was the best player to use (there is a user forum at eeeuser.com) but once setup I was amazed at what this little box could do!
It only eat like 15 watts, iplayer and 4oD work perfectly and over wireless too, have downloaded a few 720p videos to test and they all seem to work perfectly. When I read this review I was worried that it couldn't handle 1080p, to be honest not a big loss but thought I would download something at 1080p just to make sure and I can confirm that this works perfectly! I have heard that some people have issues but issually down to using the wrong media player etc.
I am dissapointed in the Reg's review :( I shall download a fe more clips to be 100% sure but so far so good ;) expensive yes but well worth the cash for the kit.
Noise.
Just checked back on this review.
Regarding Noise - this is practically silent. I've had Eve-online running on a 42" LCD and 720p content running and I can't hear it at all. I'm not even convinced there is a fan in there and I do mean that.
Just a shame that boxee and iplayer aren't playing nice at the minute :(
Perfect...
So this machine is slightly better than my more than 6 year old Mac Mini G4, which can handle standard definition content just fine...
Utterly pointless
The Western Digital HD TV player utterly destroys this in every media-playing way, and can be had for 70 quid. El Reg reviewed it in December (95%!), its since been MUCH improved with firmware updates.
Sure its not exactly a computer(unless you install the custom firmware), but once you've lived the dream of no longer having to deal with codecs, settings, framerates and other bollocks, you never want to go back to computers again.